What our customers say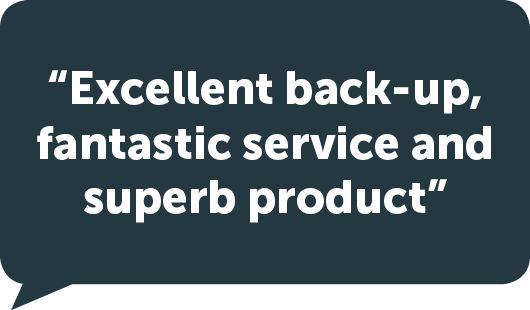 Over 60,000 customers already enjoy a system designed and supplied by Nu-Heat's experts. Here's some recent feedback taken from independently run surveys:
"From beginning to end Nu-Heat have given us all the support and guidance we needed to install our ground source heat pump. Every member of staff we spoke to were both helpful and knowledgeable and clearly supported by well worked out business processes to ensure that nothing went amiss. The installers have been excellent and clearly work well with Nu-Heat to ensure the system is all that it should be."
Homeowner
"Nu‑Heat offers the whole package – the design service, the aftercare. In my opinion they are above all the rest."
Nu-Heat Registered Installer
"I have used Nu‑Heat twice before and this was my third time. I have confidence in their professionalism to design the right system and for it to be delivered on time. They offer the whole package."
Homeowner
"Nu‑Heat are so good, the whole experience is almost a joy. Any problems you get, no matter how trivial, you just ask them and they sort it out."
Homeowner
"We have specified Nu-Heat underfloor heating for 10 years. They offer excellent technical support and a comprehensive quotation and specification service."
Architect
"I am always recommending Nu‑Heat, I carry a flag for them! I think they have been splendid. The system works as they said it would. It exceeds expectations."
Homeowner
"Nu‑Heat is a brilliant company who I have worked with for over 18 years. Their staff are second to none."
Nu-Heat Registered Installer
We make installation easy. From the initial product development stages, right down to the way we package our products, Nu-Heat systems are designed for a simple and stress-free installation.
"The quality of information that I've received from Nu-Heat throughout has been outstanding. You have put more detail into the pipe layout for my heating system than the whole of the rest of the building project put together. Great work – keep it up."
Homeowner
"I had never installed underfloor heating before. There was always someone at Nu‑Heat to take me through the process of ordering, planning and installing. They were all an absolute delight."
Installer
"I couldn't believe how simple the whole process was from start to finish. I have installed an off‑the‑shelf UFH product in the past and there was no comparison. Nu-Heat's planning and follow up was superb and I cannot wait for the next installation."
Installer
"Nu-Heat made the whole thing easy."
Housebuilder
"I would definitely recommend Nu‑Heat. The installation instructions were well laid out and straightforward. The manual gave me the confidence to press ahead with the work and Nu‑Heat were at the end of a phone if I got into any difficulties (which fortunately I didn't). My only problem was a slightly misshaped fitting on the zone actuator. I contacted Nu‑Heat and a replacement was sent within 24 hours."
Installer
"The ongoing development of their products is fantastic. Also the aftersales support is good for us and the customer."
Nu-Heat Registered Installer
"A very helpful company which are more than willing to help the installer to the very end of the UFH installation, making sure everything works correctly."
Installer
Nu-Heat offers the best expertise and our knowledgeable staff aim to offer you the best service, something recognised by our customers:
"The back‑up service at Nu-Heat is brilliant. Four years down the line and if there are any queries they are dealt with straight away."
Contractor
"We had one of your engineers, Andrew, on site at our build and I just wanted to let you know how much we appreciated his efforts in support of the testing and commissioning of our Nu‑Heat ASHP and UFH.
Andrew soon established rapport and trust. He instilled in us confidence not only in his ability, but also in his willingness to 'go above and beyond' in order to support us. His explanation, in language which was easily understandable to us, demonstrated a professional yet empathetic approach which we found extremely helpful and reassuring. We cannot thank him enough."
Homeowner
"I would to express my thanks at the service I received from your company during recent work at my property. I would like to particularly thank your Project Engineer, James, who designed the system. He was so diligent and responsive that he made the complex installation seamless and was endlessly patient with my many questions. The whole team at Nu‑Heat were equally good to deal with and I always felt fully supported during the design and installation process."
Homeowner
"Nu-Heat's customer service is fantastic. My Account Manager, Rachel, is always pleasant to deal with and gets back to me very quickly, exactly when she says she will. She is very approachable."
Nu-Heat Registered Installer
"I first spoke with Blue. He was very personable and had a lot of knowledge about the product. He was always willing to help and if we have any delays to the project, he was fine with that."
Homeowner
"Having Nu-Heat's technical support team and Project Engineers available to speak to whilst we install complex plant rooms is a massive benefit to us. This, combined with Nu-Heat's high standard of customer service, is what makes us a repeat customer."
Contractor
"No other company I have dealt with has been more co‑operative. I have already sent an email expressing my thanks for the personal assistance of at least three members of the company."
Homeowner
"An excellent personal service which is rare these days. I feel valued as a customer. Thank you."
Homeowner