What makes us different?
First and foremost, Nu-Heat is committed to designing bespoke energy efficient heating systems that perform. What really sets us apart from our competitors is the way we work with you.
Design matters
We take full design responsibility for every system we supply. Nu-Heat's experienced designers use our state-of-the-art software to create bespoke systems based on full heat loss calculations, providing you with a system that not only works, but exceeds expectations.
We assist with the full design of systems for new build and retrofit projects, specifying the correct, tried and tested technologies to meet your requirements.
Award-winning customer service
We are proud to be the only company in the heating sector to be awarded the national ServiceMark customer service award from the Institute of Customer Service.
Customer service is at the heart of everything we do, a commitment recognised by the ICS who awarded us a ServiceMark with distinction – the highest level award available, and an accolade held by very few companies nationwide.
Our commitment to customer service has been further recognised with a 2018 UK Customer Satisfaction Award, where judges praised our focus on customer satisfaction, and the new processes we have put in place that make it easier for our customers to provide feedback.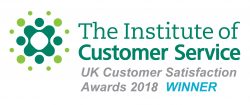 A tailored approach
We know that all projects and all customers are different, and tailor our service to suit your needs. You can be confident that we will provide you with the level of support you need to help your project run smoothly – before, during and after the installation of your underfloor heating system.
We will provide you with immediate access to competent technical support and advice, swift turnaround on quotes and drawings, award-winning installation manuals and comprehensive user guides.
Our priority is to provide you with unbeatable customer experience. With over 70,000 satisfied customers, you can rest assured that peace of mind comes as standard with all our heating systems.
RECC – consumer protection you can trust
Nu-Heat is a member of the Renewable Energy Consumer Code, RECC. This gives you reassurance that we will always provide:
Realistic performance information and predications
Accurate quotations
Information on any warranties and grants
Installation and commissioning instructions and maintenance and service options
It can also act as an independent dispute resolution service for any disputes relating to the installation of your renewables system.
For more details, visit RECC.