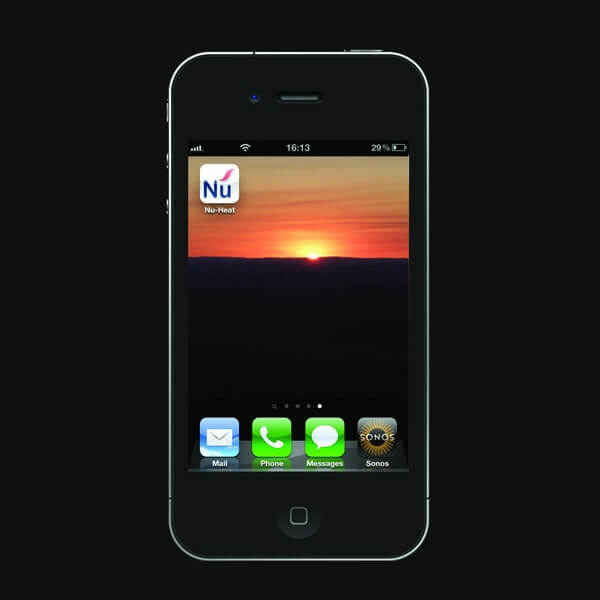 Many of us are guilty of using more energy than is actually necessary to keep our homes warm and in the past, the way in which we've controlled our heating systems has often been overlooked.  This is now changing and more attention is being paid to the part sensible and designed control can play in maximising a system's efficiency.   Increasingly, homeowners are looking for simple ways to manage their heating system to ensure it is working as efficiently as possible.
Controlling a heating system remotely is now an option for many homeowners: offering great flexibility as well as reduced running costs.  Remote access to your heating controls ensures that rooms are heated only when needed.  For example; if you are going to be home later than expected, you can change the time your heating is due to switch on, saving energy.
Nu-Heat's networkable thermostats can be installed with underfloor heating in each room, meaning individual room temperatures can be independently controlled from one single Smart Control – or even a smartphone.  The flexibility to control room temperatures separately enables 'fine tuning', giving the homeowner perfect comfort with improved system controllability.
A recent article by BBC Business touched on 'how smartphones can cut heating bills by a quarter' with one user already experiencing savings of 20%-30% thanks to managing their heating system remotely.
Nu-Heat's Netmonitor+ and free Smartphone App allow an underfloor heating system to be controlled remotely through a PC or via Smartphone.
Netmonitor+ features include:
Flexible programming modes – create a heating schedule to best fit your lifestyle
Exact temperature settings for each room
Up to 4 time and temperature changes allow flexible control
Optimum start calculates the amount of heat up time required to ensure warmth when needed and automatically adjusts throughout the year
Free app which gives a real-time temperature display
Find out more about Nu-Heat's smart controls by watching this short video.
Read the full BBC article here.