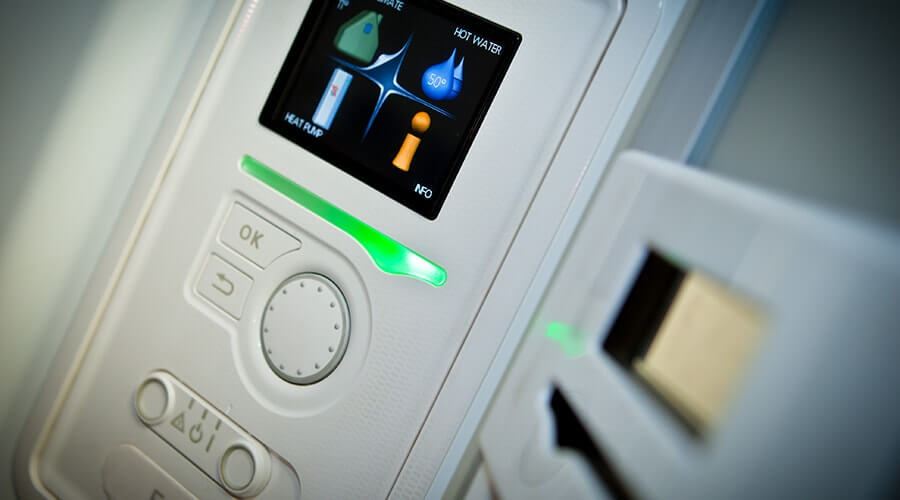 Following on from our introduction to heat pumps part 1, we talk through the technicalities of using your heat pump system.
How do I control my heat pump?
You can easily control your heat pump via a series of icons on the control panel that enable you to set heating and domestic hot water (DHW) schedules, as well as view live operating data and current temperatures. Every on-screen menu has a help button which provides clarification on each of the functions.
All Nu-Heat heating systems come with a straightforward, comprehensive user guide as standard.
Will my heat pump come with a warranty?
Yes – Nu-Heat offer a choice of warranties to support your requirements. Your system will be designed to meet your specific property needs and to maintain your desired internal temperature even when it is -3°C outside.
If you have any queries or concerns, you have access to free, expert advice from our Technical Support team.
My heat pump is weather compensating – what does this mean?
All Nu-Heat supplied air source and ground source heat pumps come with weather compensating technology.
Weather compensation works by adjusting the amount of energy it uses to achieve the desired inside temperature, according to the outside weather conditions. For example, your heating system will not have to work as hard to achieve and maintain a set minimum inside temperature on a warm summer's day as it would in the depths of winter. This is a more efficient alternative to a traditional central heating schedule, which will fire up the boiler to deliver heat to your radiators at certain times of the day or night regardless of the outside temperature, and only regulates the heat output according to the temperature of the water circulating around the system.
Will my system provide enough hot water at peak times?
The most efficient means of providing DHW for your home is to allow the DHW cylinder to remain 'topped up', with the heat pump operating to replace the used hot water.
Most heat pumps can be set to switch on a standby electric immersion heater to ensure that there is no disruption to the hot water supply at times of high demand.
What is a hygiene purge?
Your Nu-Heat heat pump will automatically run a hygiene purge on any stored DHW once a day. This heats the stored water in the cylinder to a minimum of 60°C to eliminate the risk of harmful bacteria. If for any reason the system is unable to complete the scheduled hygiene purge, it will attempt to do so every day for another seven days, before displaying an alarm on the control panel. If you choose to upgrade your remote monitoring and control package, you will also receive an email at this point advising you to contact your installer.
What is remote monitoring and control?
This is an optional data package that allows you to monitor and control the performance of your heat pump remotely, and includes access to the last month of running data as standard. Additional remote control of your heat pump is available as an optional extra, allowing you to change settings or modes whilst away from home, and also receive email alerts from the heat pump if action is required.
Will I still have heating when my heat pump is being serviced?
Yes! There is a manual override function which maintains the UFH and DHW temperatures whilst the heat pump is being serviced. Electric back up heaters within the cylinder and buffer tank also ensure that heating and hot water can be maintained if the heat pump is in fault or cannot keep up with demand.
Still have questions?
If you have questions about heat pumps that we have not answered here, please call 01404 549770 to speak to one of our technical experts, or email info@nu-heat.co.uk.