Ground source heat pumps
Nu-Heat's range of NIBE ground source heat pumps (GSHPs) is designed to supply the home with inexpensive and environmentally friendly heating and hot water using heat stored in the ground.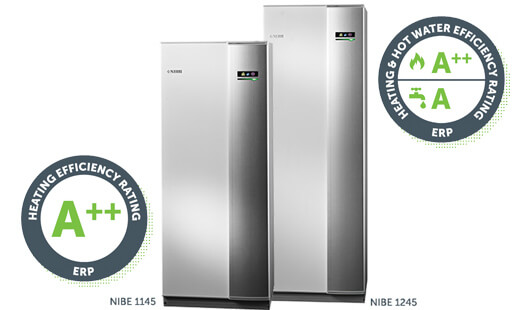 The efficiency of a ground source heat pump is measured in Coefficient of Performance (CoP). This is the ratio of units of heat output for each unit of electricity used to drive the compressor and pump for the ground loop. A CoP of 4 means that for every kilowatt of electricity put in, you get 4 kilowatts of energy in the form of warm water. The flow temperature of the warm water is typically between 35°C and 45°C; much lower than achieved by a domestic boiler. The units can reach higher temperatures, but the CoP is then compromised. Keeping the temperature at the lower end of the scale ensures the system operates efficiently and is the reason why heat pumps are the ideal partner for underfloor heating.
Benefits
Highly efficient
Modulating models (1155 and 1255), adjust output based on the heat needed, drawing last electricity
MCS approved for the Renewable Heat Incentive
Easy to read, intuitive display
Quiet, low sound level
Supplied with a full set of mechanical and electrical docking drawings
7 year warranty when supplied and commissioned by Nu-Heat
Wireless remote control available through NIBE Uplink – read more
Heat pump performance & technical information
TECHNICAL DATA

SINGLE-PHASE

THREE-PHASE

Model size:
NIBE 1155
NIBE 1145

6kW

–

12kW

–

–

15kW

–

17kW

CoP at B 0/W 35*

4.72

4.87

4.42

4.30

Dimensions

H1500 x W600 x D625mm

Net weight

150kg

185kg

191kg

199kg

Immersion heater

Yes

* In accordance with EN 14511 for heat source entry at 0°C/hot water flow at 35°C
TECHNICAL DATA

SINGLE-PHASE

Model size
NIBE 1255

6kW

12kW

CoP at B 0/W 35*

4.72

4.87

Width

600mm

Depth

625mm

Net weight

250kg

265kg

Height (headroom needed to install)

1800mm (1950mm)

Immersion heater

Yes

* In accordance with EN 14511 for heat source entry at 0°C/hot water flow at 35°C