Crossacres - a complex integrated solution
Crossacres is a prestigious luxury new build, part of the exclusive Wentworth Estate in Surrey. The property was developed by Octagon and has a total floor area of 1400m2 consisting of 7 bedrooms, 6 receptions rooms, a commercial kitchen, an underground garage with a showroom, and parking for 8 cars as well as indoor and outdoor pools.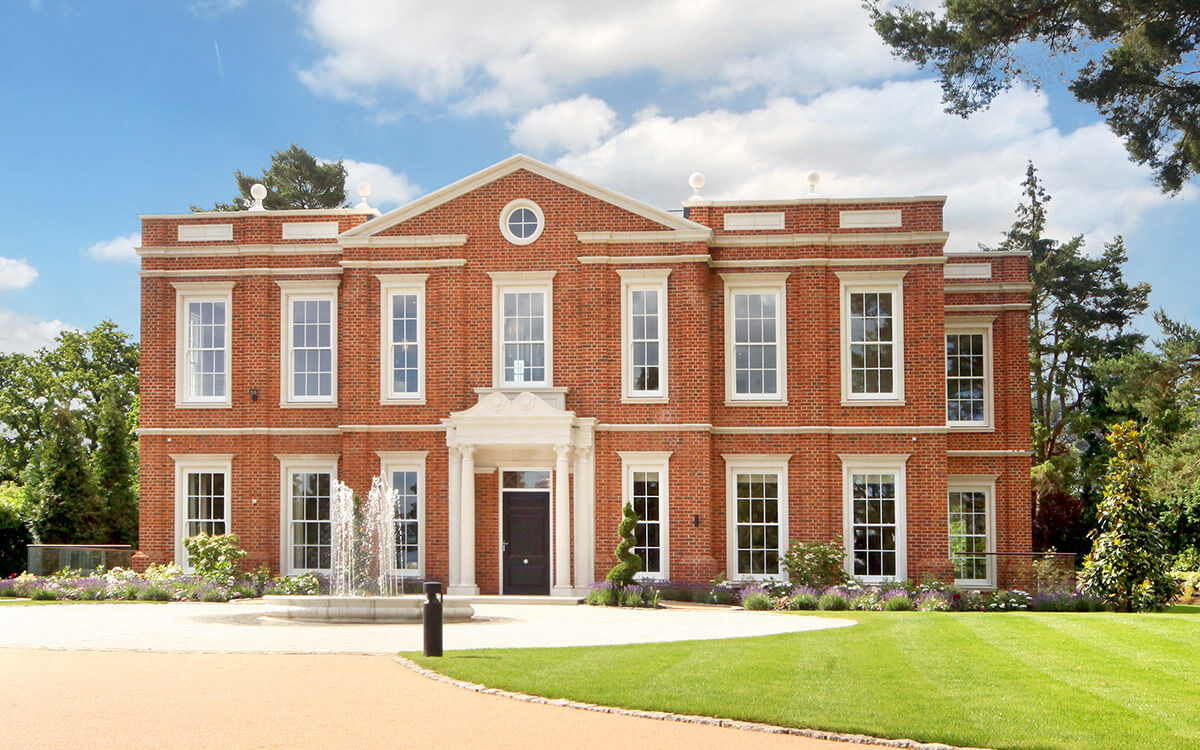 | | |
| --- | --- |
| Project details: | Prestigious luxury new build – Wentworth Estate – 1400m2 – Property value: £17.5 million |
| Requirements: | A heat pump solution designed to handle a large heat load, incorporating flexible system controls and full boiler back‑up |
| Solution: | A fully integrated solution incorporating a dual 20kW ASHP feeding the UFH, swimming pools and a driveway de‑icing system |
The project requirements
Octagon provided Nu-Heat with a very specific brief – they required an efficient heat pump system to handle a large heat load, meeting the needs of their exclusive target market.
The solution provided had to:
Comfortably deliver a sufficient heat load to the property, including heating the indoor and outdoor pools
Offer full boiler back-up
Supply the heat load/control to the towel rail circuit
Supply the heat loads/control to the domestic hot water circuit
Meet the property's high specification of domestic hot water provision; quick cylinder re-heat times and high flow rates through a high-gain cylinder design
Feed the vehicle garage ramp heating for de-icing
The Nu-Heat solution
Nu-Heat's experienced team of project designers worked with Octagon to create a bespoke heat pump solution that successfully met all of their outlined requirements.
"We worked closely with Octagon and their building services team to design a heat pump solution for Crossacres, supplying a fully integrated ASHP system. The solution provided was far removed from any off the shelf packages on the market.
We designed and supplied a Dual 3 phase 2300 20kW NIBE ASHP with automatic pressurisation unit, two 500ltr buffers, a 540ltr DHW cylinder, a driveway de-icing system with bespoke blending valve and heat exchanger assembly together with boiler back-up. The solution also utilises Modbus KNX integration with property home automation software.
This is a heating system that gives the homeowner complete, flexible control. It's everything they could possibly need."
Andrew Butt, Field Sales Manager – Commercial Division
and Gary Dommett, Nu-Heat Technical Account Manager for Crossacres
Bespoke documentation for all operational and maintenance aspects, including the end user handover manuals, were supplied to Octagon to pass on to the homeowner/maintenance team for the property.
Products

NIBE Dual ASHP 2300 20kW
This NIBE ASHP is particularly suited to larger, commercial applications, making it ideal to deliver a sufficient heat load to a project of Crossacres' size with two pools and a driveway de-icing system.
Advanced controller allows for a wide range of system requirements including individual control of multiple swimming pools and boiler back-up
Fixed speed compressor for quiet operation
USB connection for software updates and detailed data logging
NIBE Uplink enables remote access to the heat pump
CoP levels among the best on the market and it can operate in temperatures as low as -25°C
MCS approved

Specialist controls
Nu-Heat designed, built and supplied a bespoke centralised control panel for Crossacres, matching the system requirements to simplify the installation. Features included:
10 alarm signal management
Functionality to alert maintenance of any errors in any part of the system
Ability to isolate and control the plant room switch gear from a single location
All images © Octagon
Call Nu-Heat on 01404 540650 or email info@nu-heat.co.uk to discuss your upcoming projects. You can also view our Underfloor Heating page for more information