LoPro®Max OneZone underfloor heating
A low profile and high heat output retrofit underfloor heating solution that is simple to install in an existing property.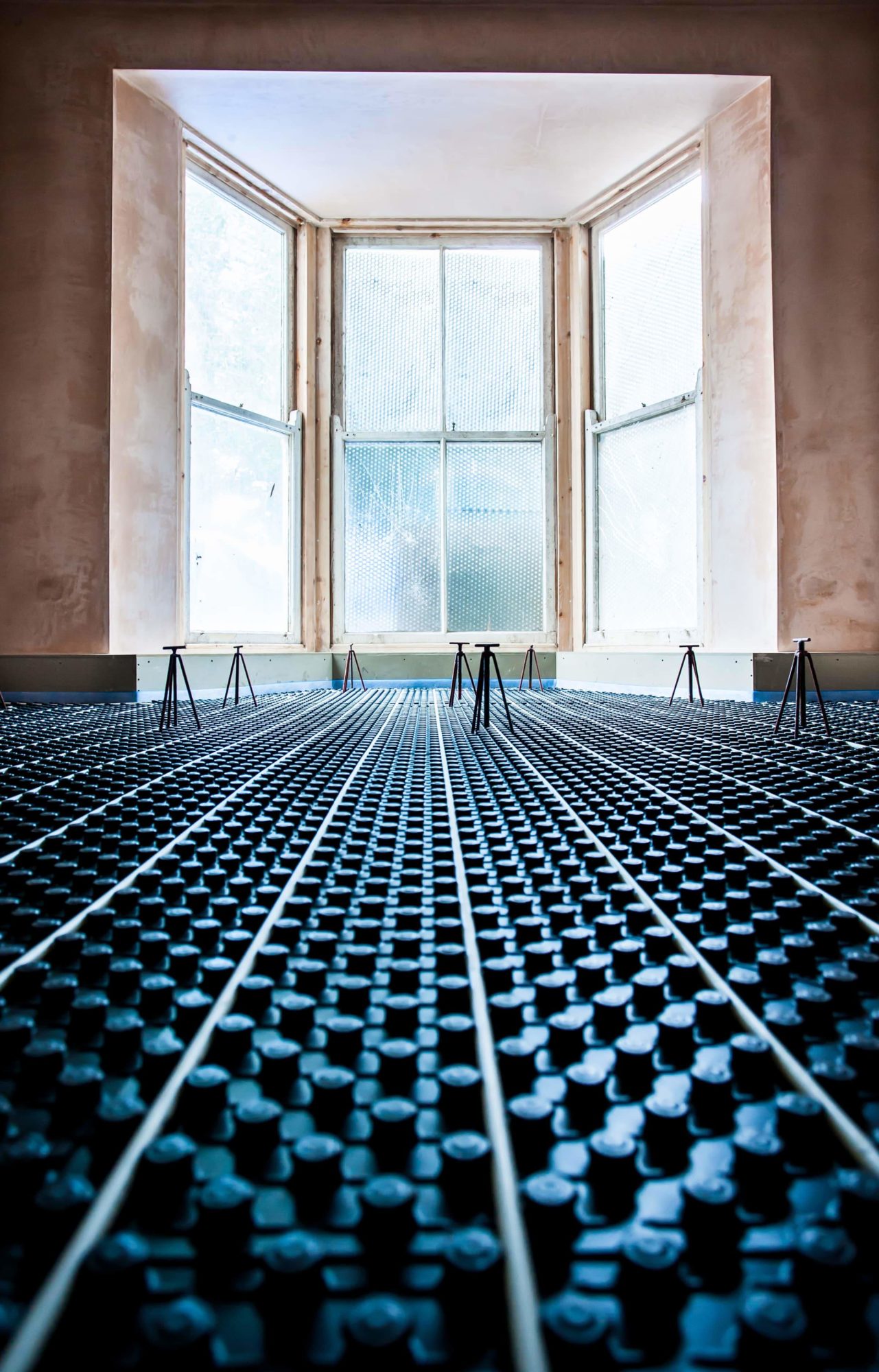 LoPro®Max OneZone is a complete underfloor heating system for renovation projects. It is low profile, at just 22mm in total, and offers high heat outputs that make it ideal for retrofitting into rooms where insulation levels are difficult to improve or where there are large amount of glazing, such as bi-fold doors.
As with all OneZone® systems, it includes high quality components that offer reliability and ease of installation. You also have a choice of two market-leading thermostats; either the hard-wired neoStat or the wireless neoAir.
LoPro®Max is a popular solution for kitchen refurbs, garden rooms or conservatories, and even new extensions where the underfloor heating will run into the existing building.
How is it installed?
LoPro®Max is laid directly on top of the existing floor deck and uses castellated panels to hold the underfloor heating tube in place. To finish the installation, the highly conductive LoPro®QuickSet self-levelling compound (included in the OneZone® kit) is poured over the tube.
The compound dries quickly and, depending on site conditions, it can be walked on after 24 hours and is ready for floor coverings after 72 hours.
Why choose LoPro®Max OneZone?
A superior heat output of 120W/m2 suitable for rooms with higher heat losses
Heats up as quickly as a radiator, offering rapid response times
Minimal height build-up of just 22mm and floor coverings can be laid directly on top
Leaves a perfectly level floor surface for laying tile and stone floor finishes
High structural and compressive strength
Can be controlled by an existing timeclock, so there's no need to change existing wiring or heating controls in the property
Can be plumbed directly into an existing radiator system
Choice of two market leading thermostat options offering smart control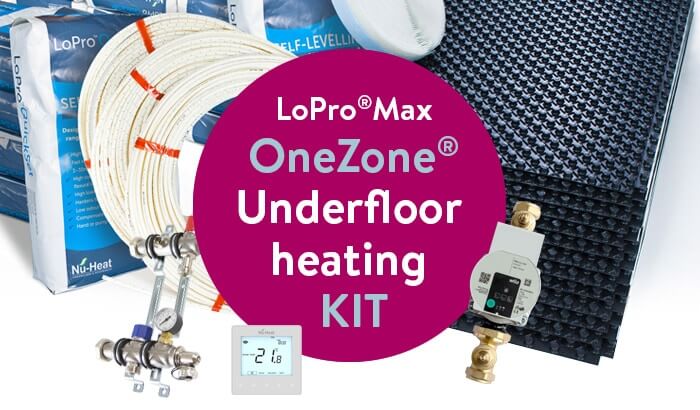 What's included in this OneZone® pack?
Pre-assembled single-zone manifold, based on the same high quality design used for Nu-Heat fully designed systems, reduces installation time
Correct amount of LoPro®QuickSet self-levelling compound
Pump and blending valve module, complete with isolation valves for easy pressure testing
Pipe distributor set (4-way for systems less than 35m2, 8-way for systems 35m2 and over)
Thermo-electric actuator
OneZone® wiring centre with labelled terminals for a straightforward installation
10mm Fastflo® underfloor heating tube
LoPro® castellated panel
LoPro® edge isolation strip
A choice of programmable thermostat – either the hard-wired neoStat or the wireless, battery-powered neoAir, with the option to upgrade either to smart control
Detailed installation manuals and user instructions
Delivery by carrier within 2 days
Free technical support over the phone, if required
Buy online
You can order a LoPro®Max OneZone kit online, through the Nu-Heat Webstore. Simply select the room size and thermostat option from the drop down menus below to be directed to the online shop.
Wireless neoAir
A popular option for renovation projects, the wireless neoAir avoids the need for chasing any wires into walls, protecting décor. Like the hard-wired neoStat, it can also be easily upgraded to offer smart control functionality by adding the neoHub (please call us on 01404 549770 to upgrade). The neoAir system includes an RF switch, enabling wireless control of the boiler and pump, avoiding the need to run cabling from the wiring centre back to the boiler.
Wireless neoStat
A popular option for renovation projects, the wireless neoAir avoids the need for chasing any wires into walls, protecting décor. Like the hard-wired neoStat, it can also be easily upgraded to offer smart control functionality by adding the neoHub (please call us on 01404 549770 to upgrade). The neoAir system includes an RF switch, enabling wireless control of the boiler and pump, avoiding the need to run cabling from the wiring centre back to the boiler.**