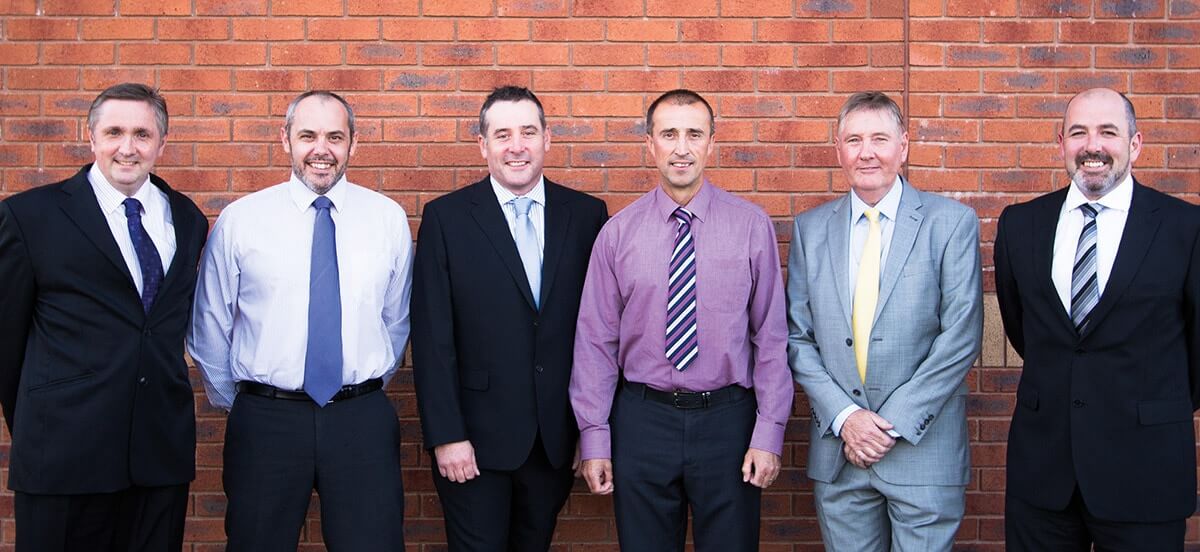 Nu-Heat's Field Sales Team offer support for projects from start to finish. Based around the country, their working week involves visiting a range of customers on-site, helping to answer any key questions and aiding the project development.
A team of six, they have over 100 years of experience within the plumbing, heating and ventilation industry combined and regularly work with installers, builders, developers, architects and self-builders to share their technical ability, knowledge and understanding to specify the right system for the project.
How long have you been at Nu-Heat and what did you do before?
Paul W: Coming up to 10 years. I started at Nu-Heat in 2006 as an Account Manager and before joining I worked within the banking industry as a Financial Advisor.
Ian: Nearly 3 years. I have always worked within the plumbing and heating industry having started at Plumb Center in 1992. Over the past 14 years I have also worked for Baxi boilers, Uponor and Maincor.
Steve: I have been here for 2 years now. I worked for various manufacturers including Xperliar/Redring, Uponor, Boulter Boilers and Fry & Pollard in a variety of roles, including specifications, business development and technical sales.
Paul S: Just over 3 years. Before joining Nu-Heat I had worked for a couple of other underfloor heating suppliers.
David: I joined the team earlier this year, having worked for another UFH supplier for 6 years beforehand.
Brian: Not far off of 10 years. I've worked in a few different teams within Nu-Heat over the years.
What do you like about being part of Nu-Heat and the Field Sales Team?
Brian: The fact that we take a professional and ethical approach teamed with top quality products. Field Sales is all about personally representing the company and it's good to be able to trust Nu-Heat to deliver on the promises I make. It's this personal approach that I particularly enjoy.
David: Every day is different. I also like that I can go out with confidence that we will have a system specifically designed for the customers' requirements without having to resort to a generic approach. Everyone at Nu-Heat is approachable which is a comfort when you are new and trying to get to grips with over 60 different UFH systems!
Paul W: I like the fact that we are one of the few companies in our industry that offers a bespoke solution, integrating underfloor heating, heat pumps, solar and domestic hot water. This gives our customers the reassurance that what we supply will work efficiently.
Ian: Nu-Heat's like no other company I have worked for in terms of the support I have from my colleagues. We are able to utilise the technical and design elements within the business to offer customers I see on a daily basis a level of service which I feel is unrivalled within our industry.
Steve: Nu-Heat is a great company to work for. It has a good family based ethos and all are extremely talented and polite. Everyone is so easy to get on with and the work is both varied and challenging.
Paul S: I like working for Nu-Heat because I believe they offer the best options within this industry and every quote and enquiry is different and more challenging. Plus I have never known a company that invests so much into product training for its staff.
Do you have a favourite product or project?
Paul S: My favourite project was one of my first LoPro®Max jobs – it was installed into a 12th century abbey with plenty of challenging restrictions along the way.
Brian: LoPro®Max is my favourite product at the moment. Having worked across the whole of the South there seems to be a higher proportion of renovation work, so it's great to have a product that ticks all the boxes for the area that I cover.
David: Aside from the LoPro® solutions, ClippaPlate® is a simple but clever way of installing UFH to a timber suspended floor even when the floor is already down as it can be installed from underneath, between the joists.
Paul W: LoPro®Max for the reason that it's a high performing solution for an existing property that may not have the high insulation values of modern builds. It can be installed without digging out the floors! It enables people to come away from radiators and enjoy the benefits of underfloor without a massive cost.
Ian: Having joined Nu-Heat at the same time we launched the LoPro® range, I would have to say these are the 2 products I enjoy talking to customers about the most. There are no other products on the market that can compare with the heat outputs whilst being such a simple retrofit option that can be installed in to a property with a minimal amount of disruption and fuss.
Steve: Mine are also the LoPro® systems. Many installers and homeowners see the benefits straight away and are amazed that they can have UFH installed throughout the whole of the project, not only in their extension.
You can find out more about Nu-Heat's design process in one of our recent posts, What makes a good UFH design?.
In our next Meet the Team post, we'll be speaking with Finance.