How does underfloor heating work?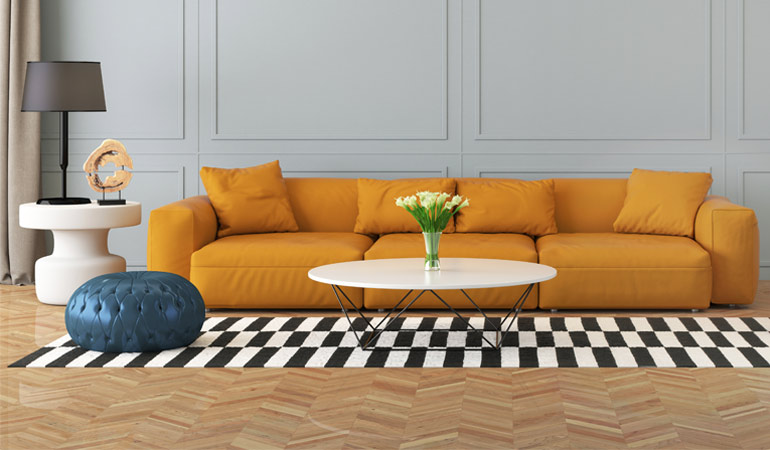 The benefits of underfloor heating (UFH)
Warm water UFH (also known as 'wet underfloor heating') is unlike any other heating system.
Highly efficient
Warm water UFH uses far lower flow temperatures than a traditional radiator system. Because it covers a much larger surface area it is still able to heat the room effectively. For this reason, underfloor heating is around 25% more efficient than a radiator system.
Perfectly suited to open plan living
UFH is an 'invisible' heating system as the tube is hidden beneath the floor. This frees up wall space, ideal for open plan living and rooms such as kitchens where space is at a premium.
Safe
UFH has no exposed hot or sharp edges – a safe option for young children and the elderly. It's great for allergy sufferers as it provides warmth free from draughts and dust movement that can aggravate conditions.
Luxuriously comfortable
With UFH, the heat gently emits upwards from the floor. This gives the luxurious feel of warm feet and a cool head without any cold spots common with radiators. UFH also warms any usually cold floor coverings, such as tiles or engineered wood.

Watch our helpful underfloor heating guide
Rachel, Technical Account Manager, talks through all you need to know. This includes:
How underfloor heating is installed
How warm water UFH compares to radiators
The benefits underfloor heating offers
Which projects underfloor heating is best suited to
A run through of the most popular underfloor heating systems, showing you what they look like and explaining how they are installed
How Nu-Heat designs a bespoke heating solution
The best way to control an UFH system
If you still have any questions, or want to talk to one of our experts about the right UFH solution for your project, you can call us on 01404 540650.

Choosing the right underfloor heating system
Warm water UFH is suitable for virtually all properties and can be paired with a wide range of floor coverings. We've listed a few of our most popular solutions by project type:
For a new build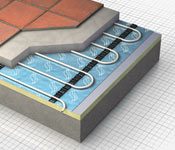 UFH is cost-effective and simple to install as part of a new build project, fitting neatly into the build schedule. Screed UFH is the most common system choice in this scenario. The heating tube is clipped through a polythene slip layer into standard insulation before the screed is poured.

Find out more about Screed UFH for new build projects

or a renovation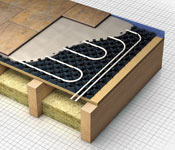 There's no need to spend time or money digging up floors with Nu‑Heat's LoPro® range of retrofit UFH. Both systems are simply laid directly on top of an existing floor and offer the lowest height build‑ups and the highest heat outputs on the market.
The LoPro® solutions make UFH a realistic heating replacement for renovation projects. LoPro®Max is available as a single room kit which is great for kitchens or conservatories.

Find out more about LoPro® UFH for renovations

For joisted floors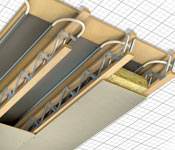 Nu‑Heat offers a range of UFH solutions for projects where there are joisted floors. Simply feed the heating tube through pre-notched or drilled joists and then push into the patented ClippaPlate® fixing system to hold it securely in place and flush with the floor for effective heat transfer.

Find out more about our joisted UFH solutions

For single areas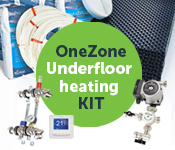 If you are looking to install UFH in one single area, such as a kitchen, then choose one of Nu‑Heat's OneZone® systems.
The complete kits are available on our online webstore and include everything to install a high quality warm water UFH system in a single space.
Three of our most popular systems are available as OneZone®:
Screed for new build extensions

Floating for first floors or renovations that can tolerate some height build-up

LoPro®Max for a wide range of renovation projects where height build-up and heat output are important considerations

Find out more about OneZone®UFH


Buy direct from our webstore

Why choose Nu‑Heat?
Nu‑Heat has been designing and supplying warm water underfloor heating for nearly 25 years. Our systems are designed in‑house to meet specific needs and every project, regardless of size, is overseen by our experts . We are committed to offering every customer:
Genuine, helpful advice and a high level of support


Our experts are here to help you from the initial stages of choosing the right solution, right through to technical support

. Your Technical Account Manager will oversee the project. You can call us, visit us in the office, or we can send one of our experienced team out to meet you on site

High quality heating solutions


Nu‑Heat uses the highest quality tried and tested components.

Our in-house Product Development Team is works to ensure that we offer the very best heating solution available

.

A bespoke approach


Every system

is designed

to heat to the desired temperature, maximising comfort yet minimising energy

.

We achieve this high level of performance by creating a bespoke system design for every project

.