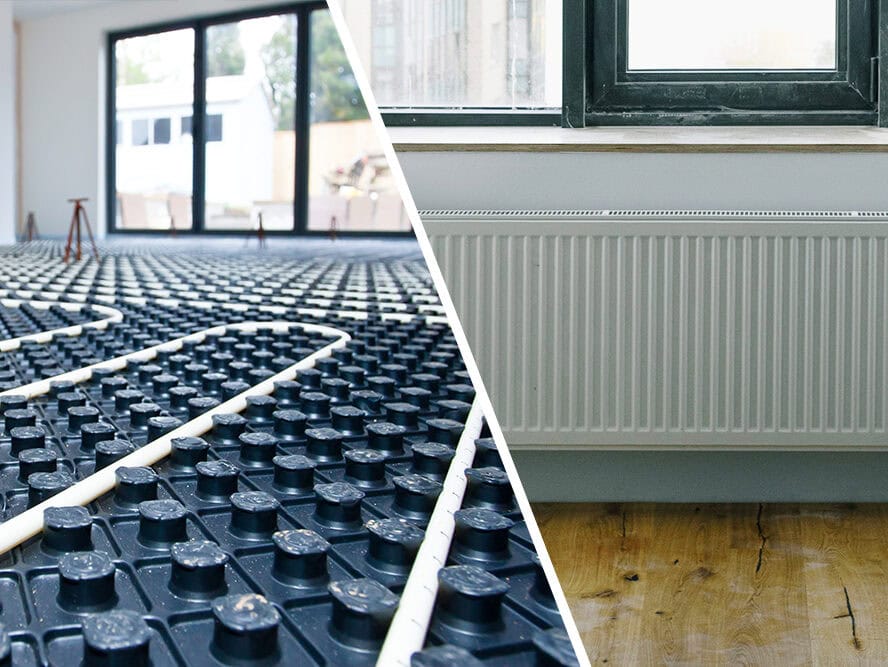 I don't know why we put up with radiators for so long – I'll never go back!
We hear this all the time from people living with underfloor heating.
In the past, radiators have always been the obvious choice for heating a room, but UFH is now so versatile it can be installed – and enjoyed – in virtually any home. This gives rise to a couple of questions; underfloor heating or radiators? Which is the best option for me, and can underfloor heating replace radiators altogether?
Underfloor heating can be used in any room of your property. From water to electric underfloor heating, and from low profile to screed UFH systems, you're sure to find the perfect solution for your heating needs. We do understand however, that there may be situations where you may want to keep existing radiators in some areas of your home.
Click below to jump to the section you need:
Why not email us or contact us on 01404 549770 to talk things through?

Underfloor heating vs radiators: Pros and cons
Understanding how these heating systems work will give you a better idea of which one to choose for your home. Each heating system comes with different features and benefits.
Underfloor heating pros and cons
Underfloor heating pros
Underfloor heating cons
No cold spots or draughts: The way UFH works, heating from the floor up (giving an even heating profile free from draughts and cold spots), and the controllability of UFH, means that UFH heats rooms perfectly. Warm water is pumped through the pipework, from the manifold(s), gently warming the floor, creating a comfortable environment.
Initial purchasing cost can be higher: Some UFH systems can have a higher initial purchasing cost. This can be because UFH can require more parts and has a longer installation process than radiators. Though, you will generally save money in the long run with an UFH system.
UFH is controlled by thermostats: You would have a thermostat per room or zone to set your preferred temperature. UFH is split into zones, making it more controllable than radiators.
May be new to you: Everyone is familiar with radiators and knows how to use them. An underfloor heating system may require a bit of time to understand and get used to.
At least 25% more energy efficient: UFH will heat your home without the need for any additional heating. UFH covers a large surface area, it uses lower water temperatures than a radiator and is more efficient – up to 40% more efficient when paired with a heat pump than radiators.
Warm heated floor: One of the biggest benefits of UFH is the feel of the warmth underfoot. It adds a luxurious feel to the home. No more cold tiles or hard flooring.
Frees up wall space: Because strong and flexible plastic pipework is buried within the floor, it is a practically invisible heating system. The heart of the system, which is the manifold, is stored away in a cupboard.
No exposed hot surfaces or sharp corners: Being hidden also means that UFH is safer than radiators. No exposed hot or sharp surfaces or pipework that can cause injury.

Complete interior design freedom: As UFH is hidden away and no space is taken up by radiators in the home, you have more wall space to play with. There are no restrictions on where you can place furniture. No big white radiators to spoil decor.

UFH can be installed in all types of property. Even during renovations. They can be installed on ground and upper floors, and work with boilers and heat pumps. There is no need to change your current boiler.
Radiators pros and cons
Radiator pros
Radiator cons

Already installed in most homes: You can easily upgrade your existing radiators with newer ones, add extra ones or move them without much disruption. This can make keeping radiators a good choice if you are renovating on a budget or only undertaking minor renovation works.

They come in a range of sizes and styles to suit the heat output required and your decor.

Uneven heat, draughts and cold spots: Radiator systems are usually controlled with one single thermostat along with thermostatic radiator valves (TRVs) which adjust the amount of hot water that enters the radiator they are attached to.
Everyone is familiar and used to radiators: This often means you're familiar with their limitations and know how they behave. Your plumber will also know how to install them as they probably have fitted hundreds.
Takes up wall space: Most radiators are metal heat emitters that are fixed to your wall.
Quick blasts of focused heat: High heat outputs mean that you can have radiators in a renovation without necessarily having to upgrade insulation (although you should always look to minimise heat losses to create a more efficient system).
Can't be paired with heat pumps: Standard radiators are compatible with boilers but are not recommended for heat pumps (this is because of the higher water temperatures required by radiators to work efficiently). You can buy low-temperature radiators specifically for heat pump systems, or oversize your radiators to heat the home with lower water temperatures.
Not very energy efficient: Radiators only heat a small area of the house. The heat emitted from radiators may not directly reach the couch across the room so you may not be able to feel the warmth as strongly as you should. Because of this, there may be a tendency to turn the radiators up higher, using more energy to heat the full room.
Sharp corners and exposed hot surfaces make it unsafe: Exposed radiators can be dangerous to touch if they are turned on. You must be aware of when it's turned on as the exposed hot surfaces could easily burn your skin.
Can you use radiators and underfloor heating together?
It doesn't always have to be a question of underfloor heating or radiators; it is possible to combine the two. You may not be in a position to rethink the heating for your whole home, or you may just want to keep some of your current radiators. The two systems can work hand in hand to effectively heat your home.
Maybe you want to avoid the disruption of removing your existing radiators, or perhaps there is no budget to replace your entire heating system. With so many flexible retrofit underfloor heating (UFH) systems on offer, the possibilities for hybrid UFH and radiator systems are increasing.
Thanks to these developments, there is no longer a need to choose one system for your entire property. Underfloor heating and radiators can both be successfully installed in different areas of a property to create a flexible and efficient heating system. By installing a radiator manifold, you can control your entire home's heating system from a single app, radiators and underfloor heating alike.
Adding underfloor heating alongside an existing radiator system
It's easy to install underfloor heating alongside an existing radiator system. UFH can be fitted on all floor areas, or in a single room such as a bathroom or extension.
But how is UFH controlled alongside an existing radiator system? The type of underfloor heating system you choose – either standard screed or a retrofit system – will affect this:
If the UFH is a standard screed or floating floor system it will work at its best with independent control from the radiators. This caters to the difference in heat-up time.
If the UFH is a retrofit system, like LoPro®Max, that offers a high heat output and quick response times, run UFH directly from the existing radiator circuit. This solution heats up and cools down similar to a traditional radiator system and is simple to control, using the existing time clock.
Underfloor heating or radiators: Which is the best heating for my home?
Finding the best heating for your home can be a challenge. There are many different factors to take into consideration when deciding between UFH or radiators in your home. We'll begin six different scenarios that you may encounter when renovating that can help you decide which heating option works best for you.
The cost of running underfloor heating vs radiators
If you're looking for cost-effective heating, then underfloor heating may be the best option for you. Underfloor heating is more eco friendly than using radiators and uses less energy, meaning they cost much less in the long run!
As long as you have installed it properly, you could save about 25% of the energy you would use with a radiator, and up to 40% when running from a heat pump.
Underfloor heating is best for renewables and environmentally-friendly homes
Interested in creating a more energy efficient, green and eco-friendly property?
Standard radiators are at a disadvantage when it comes to their compatibility with renewable heat sources, such as air source heat pumps and ground source heat pumps. For a radiator to heat a room, using the lower flow temperatures of a heat pump, it would have to be oversized, taking up more wall space.
In this type of scenario, UFH will always be the best heating option.
UFH is around 40% more efficient than radiators when paired with a heat pump, as it uses a much lower water temperature than required by radiators.
Find out more about Nu-Heat's range of renewable energy solutions
Installing UFH is simple and straightforward
Another big pro for underfloor heating is that it's really is simple to install with a clear, comprehensive instruction manual. Some installers even report that they find UFH easier to install than radiators.
UFH also requires less supply pipework from the boiler than a radiator system. You only need to run a flow and return to the manifold/s, rather than to the whole radiator system, making for an easier installation.
Please feel free to contact us and discuss options for your project.
Underfloor heating vs radiators: Installing in an existing build
Choosing between UFH and radiators in an existing building depends on the scale of the renovation being undertaken.
Taking up floors in order to install certain UFH systems can be a big job therefore, if the floor was not on your 'to do' list for the renovation, you may think that underfloor heating is not the best option for you. You should however consider retrofit UFH systems, such as LoPro® – it's quickly and easily laid on top of the existing floor, helping to minimise the disruption to your home.
If you are making minimal changes to your home, so want to avoid any upheaval, or are particularly tight on budget, replacing your existing radiators, or adding new ones into an extension may be the best heating option for your home.
If there are plans to extend the property in the near future and it currently has radiators, you have the choice to stick with your existing radiators or to install a future-proofing UFH system (allowing for extra ports on the manifold so that UFH can also be installed within the extension). In either case, you may need to upgrade the insulation levels in older buildings for the property to stay snug.
Read some of our underfloor heating case studies for renovations
Underfloor heating vs radiators: Installing in new build properties
In a new build, you need to consider whether it's worthwhile installing radiators at all.
Screed underfloor heating is easily installed as part of the build schedule (they'll usually be screed going down anyway) and it is also a great cost-effective heating option, offering far more benefits than a radiator system at comparable running costs.
You could even save money on your energy bills as underfloor heating is up to 25% more cost-effective than radiators. Open plan living is often a key feature in new build design, meaning underfloor heating is likely the more desirable solution.
Take a look at some of our underfloor heating in new build case studies
Underfloor heating vs radiators: renovating a single room
When it comes to renovating a single room, the choice between underfloor heating or radiators comes down to how the room will be used.
It is a myth that if the property already has radiators throughout, a radiator is likely to be the cheaper and easier option. UFH is ideal for many rooms in the house and can even help to save you money. Find out more about the cost of running underfloor heating.
Kitchen and living space renovations are particularly well suited to UFH, freeing up wall space and offering a touch of luxury, especially if tiles or wood flooring will be used.
Underfloor heating vs radiators: A new extension
Rather than disrupting your whole home, you may want to install UFH in a new extension, while keeping radiators in the rest of your home. As extensions must be built to current building regulation standards, there will be plenty of insulation present. This means it will be suitable for most underfloor heating systems, depending on the sub-floor.
In this scenario, UFH can be installed without the need to replace or disrupt the existing radiator system. It can even run off of the existing radiator circuit – great for new kitchens or living spaces.
If you are building new, extending or renovating, UFH offers far more benefits than radiators. It's difficult to justify choosing radiators if you have the option to install UFH.
If you are installing a heat pump, UFH is essential. It will maximise the efficiency of your new renewable system and help to deliver a warm home year-round with low running costs.
Read some of our underfloor heating case studies for extensions
Making the Most of Your Space with UFH
How we heat our homes affects how we live in them. If you find your chilly kitchen is a no-go zone, frequently abandon your comfy sofa to fight for the hot-spot by the radiator, and discover yourself reaching for an extra blanket – it's time to break free from bad heating.
Don't let radiators spoil your fun. Reclaim your space and replace radiators with UFH.
Warm water underfloor heating gives you the freedom to enjoy every last inch of your home, meaning you can place fixtures and fittings where you please. We believe that underfloor heating is the best way to heat your home – and here is why.
It doesn't cramp your style: Underfloor heating frees up your walls. You'll never have to place a sofa at a jaunty angle or compromise on your interior design ever again. You can even hide thermostats away and control the entire system from your smartphone or tablet. And even with a standard dial thermostat, only one is required in each zone – far less intrusive than having to have at least one radiator in every room. This is one of the reasons that UFH is particularly well suited to open plan living.
Reclaim your space: Cast off your fluffy slippers and put the champagne on ice – your cold kitchen just became the perfect entertaining space. Every part of the room is toasty when you choose underfloor heating. No draughts, no cold spots and no need for socks!
Enviously efficient: The great thing about underfloor heating is that it feels fantastic and frees up your home whilst still being incredibly efficient. Up to 25% more efficient than an equivalent radiator system*. *EURay 2005
How to choose the right company for your UFH project
It can be challenging to know where to start when looking for the right company to take on your UFH project. A few things to consider when looking:
Great customer service: You want someone who will listen to your needs and ideas and bring it all to life with your UFH.
A bespoke design: Every house is different, and so every house has different needs. You want a company who will be able to tailor their UFH so that it fits perfectly with your floorplan. You want someone who has a strong understanding of underfloor heating so that it heats your house in the most efficient way possible.
Lifetime technical support: Lifetime support means that whatever happens, whenever it happens, you will have support with your UFH system. Minor changes and fixes, or new full renovations, having that support will mean that you don't have to do it alone.
Nu-Heat offers all of this with installation of our UFH system. If you're looking for a place to start, we'd be really happy to discuss your project with you.
Whether you're plotting an extension, tackling a new build or giving your existing home a complete overhaul, your heating should be designed to be a perfect fit. There's no guesswork with UFH – everything is calculated for you, so you know that the system will perform.
Designing a tailored underfloor heating solution for your home
We will work out heat loss calculations for every room, designing your tailor-made underfloor heating system to ensure super-efficient, sensational snugness throughout your home. Every system Nu-Heat supplies considers room sizes, floor coverings and how rooms are used day-to-day.
Over 60 different underfloor heating solutions
With over 60 different floor constructions available, UFH is a very flexible solution that can be installed in any type of property It can be installed:
Throughout the whole house
On just one floor level
In a single room such as a bathroom, kitchen or new extension
New retrofit systems that are laid over an existing floor make UFH an exciting option for renovation projects. They can be installed very quickly and cause minimal disruption to existing fixtures and fittings. You can even opt for wireless thermostats to avoid chasing wires up walls.
Still not sure on the best solution for the project?
Call 01404 540650 or email info@nu-heat.co.uk and one of our team will be happy to help.