Nu-Heat, have been committed to delivering fully designed, energy efficient systems nationwide for over 25 years.

At Nu-Heat we're committed to designing bespoke systems that perform, but what really sets us apart from our competitors is the way we work with you.
By sticking to our core values of integrity, diligence, empowerment and nurture, we're now the UK's largest supplier of warm water underfloor heating and renewable solutions!
Working with you before, during & after your project
You can be confident that we will provide you with the level of support you need to help your project run smoothly – before, during and after the installation of your underfloor heating system.
Nu-Heat's experienced designers use our state-of-the-art software to create bespoke systems based on full heat loss calculations, providing you with a system that not only works, but exceeds expectations.
Paired with access to site visits and free technical support, you can expect more when you choose Nu-Heat for your project.
RECC – consumer protection you can trust
Nu-Heat is a member of the Renewable Energy Consumer Code, RECC. This gives you reassurance that we will always provide:
Realistic performance information and predications
Accurate quotations
Information on any warranties and grants
Installation and commissioning instructions and maintenance and service options
It can also act as an independent dispute resolution service for any disputes relating to your renewables system.
For more details, visit RECC.
Award-winning customer service
We are proud to be the only company in the heating sector to be awarded the national ServiceMark customer service award with Distinction from the Institute of Customer Service.
Customer service is at the heart of everything we do, a commitment recognised by the ICS who awarded us a ServiceMark with distinction – the highest level award available, and an accolade held by very few companies nationwide.
Our commitment to customer service has been further recognised with a 2018 UK Customer Satisfaction Award, where judges praised our focus on customer satisfaction, and the new processes we have put in place that make it easier for our customers to provide feedback.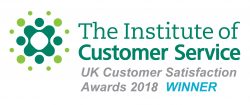 Our reputation
We are proud of our reputation – it's why we enjoy relationships that span decades with our installers. Here's what some of our customers think:
"Nu-Heat made choosing a supplier easy. From our initial enquiry they were informative, efficient and helpful – in fact everything we were looking for" – Roz & Mick Abrahams, Self-builders
"Nu-Heat gave me guidance on the direction they thought I should do, which was reassuring. They were knowledgeable about the products and gave sensible advice on which of them would be right for my project" – David Dawkins, self-builder
"The back-up service at Nu-Heat is brilliant. Four years down the line and if there are any queries they are dealt with straight away" – Warren Cooper, Contractor
"We have specified Nu-Heat underfloor heating for over 10 years. They offer excellent technical support and a comprehensive quotation and specification service" – Chris Carter, Architect
"Having Nu-Heat's technical support team and Project Engineers available to speak to whilst we install complex plant rooms is a massive benefit to us. This, combined with Nu-Heat's high standard of customer service is what makes us a repeat customer." – Stuart Houston, Heating and Plumbing Contractor
Our company history
When Nu-Heat started, back in 1992, there were four Directors and one other employee!
We've come a long way since then so take a look at Nu-Heats history timeline below to see how our company has grown…
View our company timeline
1992 First underfloor heating order placed from The Garvins
1996 Nu-Heat opens our first office in Sidmouth, Devon
1997 The Nu-Heat website is launched and the number of staff creeps up to
2000 Our intelligent Optimiser software is introduced, allowing us to offer improved system design
2001 Nu-Heat moves to a larger office premises in Honiton
2004 Purpose-built warehouse is constructed to hold the increasing amounts of stock
2005 We reach over 50 members of staff!
2007 Nu-Heat begins offering fully integrated renewable solutions
2008 Our National Training Centre is opened
2010 We now employ over 100 members of staff!
2012 LoPro®10, a retrofit underfloor heating system, is launched
2013 LoPro®10 wins Build It Award for the 'Best Plumbing Product'
2014 New LoPro®Max is introduced into the award-winning retrofit LoPro
2016 AcoustiPanel®14, a high performance acoustic underfloor heating system, is launched
2016 First heating company to achieve a Distinction award from the Institute of Customer Service.
2017 Nu-Heat celebrates its silver anniversary
2018 Nu-Heat wins prestigious Institute of Customer Service UK Customer Satisfaction Award and launches LoPro®Lite, the latest addition to the retrofit LoPro
2019 Nu-Heat introduces FastDeck®, a completely dry alternative to screed underfloor heating systems, and ElectroMat®, our first electric underfloor heating kit.