Design. Innovation. Expertise. Service.
As the UK's largest supplier of warm water underfloor heating and integrated renewable solutions, Nu-Heat is committed to delivering fully designed, energy efficient systems to installers, housebuilders, contractors, architects and self-builders nationwide.
Supplying the very best
Having designed and delivered over 70,000 underfloor heating systems, we know how to provide you with a system that exceeds expectations.
From manifolds to controls, all Nu-Heat underfloor heating, integrated renewables and hot water systems are supplied to specification, with a full set of high quality, tried and tested components.
Working with you before, during & after your project
First and foremost, Nu-Heat is committed to designing bespoke energy efficient heating systems that perform. What really sets us apart from our competitors is the way we work with you.
From interpreting and creating CAD drawings to making those early recommendations that will improve a system's efficiency; offering on-site installation support to post installation customer service – you can expect more when you choose Nu-Heat for your project.
Award-winning customer service
Our customers are really important to us, and we work hard to deliver the best possible service. As the only heating company awarded a Distinction from the Institute of Customer Service, and the proud winner of a 2018 UK Customer Satisfaction Award, you can be confident that we will provide you with the support you need.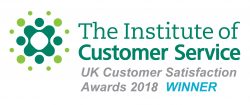 Our reputation
We are proud of our reputation – it's why we enjoy relationships that span decades with our installers. Here's what some of our customers think:
"Nu-Heat made choosing a supplier easy. From our initial enquiry they were informative, efficient and helpful – in fact everything we were looking for" – Roz & Mick Abrahams, Self-builders
"Nu-Heat gave me guidance on the direction they thought I should do, which was reassuring. They were knowledgeable about the products and gave sensible advice on which of them would be right for my project" – David Dawkins, self-builder
"The back-up service at Nu-Heat is brilliant. Four years down the line and if there are any queries they are dealt with straight away" – Warren Cooper, Contractor
"We have specified Nu-Heat underfloor heating for over 10 years. They offer excellent technical support and a comprehensive quotation and specification service" – Chris Carter, Architect
"Having Nu-Heat's technical support team and Project Engineers available to speak to whilst we install complex plant rooms is a massive benefit to us. This, combined with Nu-Heat's high standard of customer service is what makes us a repeat customer." – Stuart Houston, Heating and Plumbing Contractor