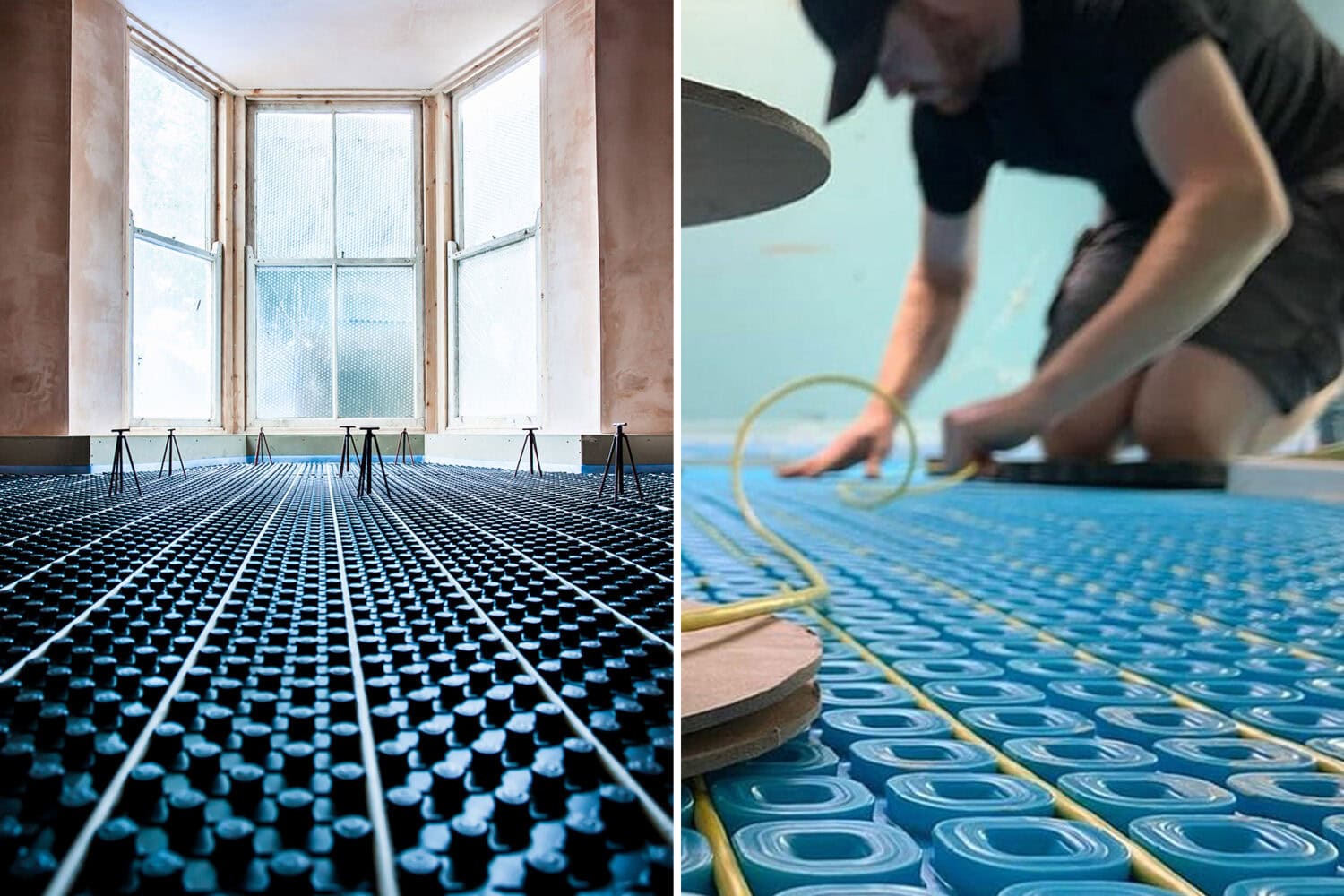 Underfloor heating (UFH) has been in use in the UK for many years now and has been accepted as the sole source of central heating for the majority of new build and renovation projects, as well as supplementary heating for all kinds of property development.
The UK is quickly catching up with the Scandinavian model where approximately 80% of properties use underfloor heating as the sole source of heat – a great benefit not only for energy efficiency, sustainability and economy, but also for the interior design freedom without the restriction of radiators!
There are two main types of UFH systems: warm water and electric, and we offer over 60 UFH system options to suit every possible need. Warm water systems are similar to the traditional central heating system where the water is heating at a central point and pumped around the property via a series of pipes.
Electric underfloor heating systems are either loose cables or cables embedded into mesh mats, which are laid onto an existing substrate usually covered with a thin screed (sometimes this is the tile adhesive if using them as the final floor finish) and connected up to a thermostat.
Benefits of Each System
So, which is the right UFH option for you, electric or water? Here are a few benefits of both systems:
Warm Water Underfloor Heating
Traditionally included in a new build construction, although systems in our LoPro® range can be laid over an existing floor making them ideal for renovation projects.
More powerful in heat output than electric systems plus much more energy efficient than radiator systems and can completely remove the need for traditional radiators in your home.
Screed based UFH systems have longer response times, but retain their heat well, keeping the floor warmer for longer.
Can use a variety of heat sources to run, meaning renewable energy sources, such as air source and ground source heat pumps.
Our new OneZone® underfloor heating kits offer the same high quality components, reliability, ease of installation and level of customer support that you would expect from any Nu-Heat system and are an ideal off-the-shelf purchase for DIYers and installers. The kits include everything required to install warm water underfloor heating in a single area – whether small and large – where a full system design is often not needed. This could be as part of a new extension or in a renovation project.
Electric Underfloor Heating
Perfect for a smaller area and can be used as an add-on to a larger warm water system or as a standalone set up.
Cheaper to install than wet systems.
Heats up quickly, but also loses heat faster than warm water UFH
Usually more expensive to run than wet UFH, due to the cost per unit difference between electricity and gas or oil, but good for a small area where you want a speedier response, such as guest bathrooms.
Great way of exploiting existing solar PV or wind technologies.
Specialist electric systems, such as our new ElectroMat® OneZone ®, require no prior experience or any specialist tools and includes everything that you will need to install it; system controls, flexible ElectroMat® cable, de-coupling membrane and a fully illustrated installation manual which brings it well within the scope of a skilled DIYer.
Which system is suitable for which area?
Warm water UFH is suitable for virtually any space and any area; it just takes a little knowledge to understand what works best where. A new build will typically require a screed UFH system, where the UFH tube is held within a layer of screed, or a screed-replacement system like FastDeck®; a brand new, completely dry, combined UFH and floor deck solution. Upper floors are not excluded from warm water underfloor heating as the UFH tube can be fitted between, or straddling, the joists on upper floors.
This is sometimes held in place by a metal heat diffuser plate, such as ClippaPlate®, and has a zero build-up height as it is laid below the floor. There is also a floating floor solution available for joisted floor constructions.
For renovations a low profile UFH system, such as one from Nu-Heat's LoPro® range, is ideal and is laid directly on top of the existing floor, with minimal disruption to fixtures and fittings. These low-profile, higher heat output systems are ideal for older properties, where UFH may not otherwise have been an option. Build-up heights of between 15-22mm are dramatically lower than the traditional 55-60mm of in-screed systems.
Electric UFH can be used throughout the home but is best suited for use within smaller areas either as a standalone system or as an add-on to a warm water UFH system. ElectroMat® is particularly suited to bathroom and kitchen areas and is completely waterproof, so can be used within a wet room environment too with ease.
Renewables Integration
The continual need to be eco-friendly and cost-conscious ensures we consider renewables integration throughout the design and fit process. Warm water underfloor heating can be used with any heat source including standard gas and oil boilers, range cookers and renewable technologies such as ground and air source heat pumps.
Warm water UFH heating is typically around 25% more efficient than a modern radiator system as it works at much lower flow temperatures (typically 35-55°C as opposed to over 70°C for radiators), this makes it ideal for heat pumps which provide optimum efficiency at low temperatures, therefore reducing heating costs. As mentioned above, if you are able to exploit existing solar PV or wind technologies, electric UFH is a good option for you to consider as your running costs  may well be competitive to a warm water system in smaller rooms or areas.
Summary
Having underfloor heating installed as a replacement for radiators is not only extremely pleasing visually but is also a big win when it comes to keeping your home clean as no radiators means no dust or dirt magnets for you to manage! Both types of underfloor heating systems have no exposed hot surfaces or sharp edges making them a safe option for young children, the elderly and for pets. They are also great for allergy sufferers as they provide warmth free from draughts and dust movements which can aggravate these conditions. Finally, if you are developing the property for resale, then it is an accepted fact that purchasers will pay more for a property which has underfloor heating installed.
Whichever system you are considering, contact us for a free quote. Our wide range of underfloor heating systems, both warm water and electric, allows us to offer you the most suitable and cost-effective system for your project.
Discuss your next project with Nu-Heat's specialist UFH advisors on 01404 549770 or email info@nu-heat.co.uk.