Impressed by the underfloor heating in both their son and daughter's properties, Ann and Wyndham Collins had no hesitation in working with Nu-Heat when building their own dream home on the Pembrokeshire coast.
A home of their own
Describing themselves as 'serial self-builders', Ann and Wyndham had a strong vision of what their dream home should be – a warm, comfortable and spacious open-plan property with stylish hard flooring throughout, and large glazed areas to make the most of spectacular views of Carmarthen Bay. Central to this was a desire to have warm water underfloor heating on the ground and first floors; keeping every area cosy and giving them complete interior design freedom without the restrictions of radiators.
When Ann and Wyndham found their perfect plot near Tenby, Wales, they set about designing their dream home, which would later be called Shearwaters. Having been heavily involved in – and impressed by – the design of their daughter's self-build property in North Lincolnshire, they decided to use this as a template for their own build. A stunning, open-plan, contemporary home, the property couldn't be more different to the Georgian style house in which they previously lived, which Wyndham describes as having "lots of windows and lots of radiators – very restricted on space".
By contrast, Shearwaters is spacious yet cosy, with ceramic and wooden floors warmed by efficient Nu-Heat underfloor heating.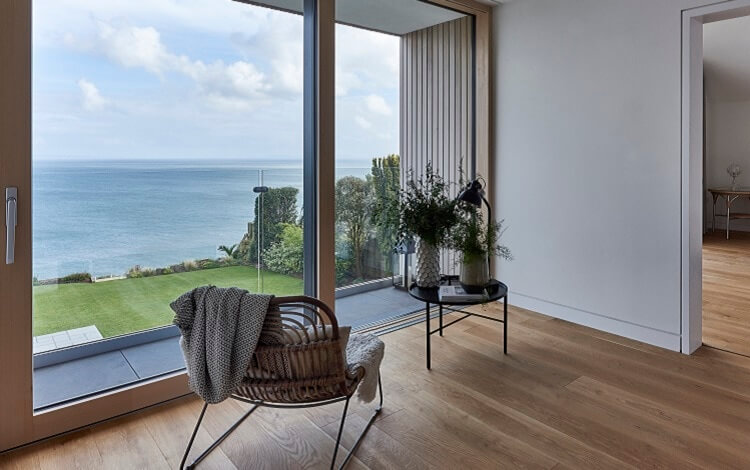 Why Nu-Heat underfloor heating?
Wyndham explains: "We helped our son to renovate his terraced property in London, where floor space is always at a particular premium. At just 15' wide, the property lost a lot of space to the radiators which were previously installed there.
The potential for the bay window in the lounge was completely lost thanks to an ineffectual radiator that took up a lot of space and left most of the room cold. Having seen the improvement that Nu-Heat underfloor heating made in both his renovated home and our daughter's self-build property, we wouldn't consider going back to conventional heating."
It was an absolute no-brainer to go for Nu-Heat underfloor heating in our own home.
It's all about service
"We originally met Nu-Heat at a self-build show and built up a good relationship with them," says Wyndham. "We liked that they could offer a variety of solutions for different scenarios – and we have experienced a few of them between the three houses! We have seen first-hand how Nu-Heat's low-profile LoPro®10 solution made the most of the ceiling height and maximised space in our son's renovated property, and know how much our daughter loves having underfloor heating throughout her home. Nu-Heat created a bespoke solution for Shearwaters, which combined screed underfloor heating on the ground floor, and a floating gypsum board underfloor heating system upstairs.
"It's all about service at the end of the day. We found Nu-Heat's prices to be very competitive – important when you are a self-builder – and the design drawings were sent through quickly. We love that we can individually control the temperature of each room, and can set the heating according to how we use the space. We can increase the temperature of guest rooms when we have visitors, and just keep them ticking over the rest of the time.
Having lived with underfloor heating, I can't see how anyone wouldn't want to – especially if you have solid flooring.

Tailor-made solutions for all properties
Whatever the age, size or construction of your home, chances are it's suitable for underfloor heating. Whether you're plotting an extension, tackling a new build or giving your existing home a complete overhaul, Nu-Heat will design your underfloor heating to be the perfect fit.
Call Nu-Heat on 01404 549770 or email info@nu-heat.co.uk to discuss your upcoming projects. You can also view our Underfloor Heating page for more information.