Air source heat pump installation
Whether you're a homeowner or an installer, if you're looking to find out more about air source heat pump installation, we've gathered everything you need to know right here.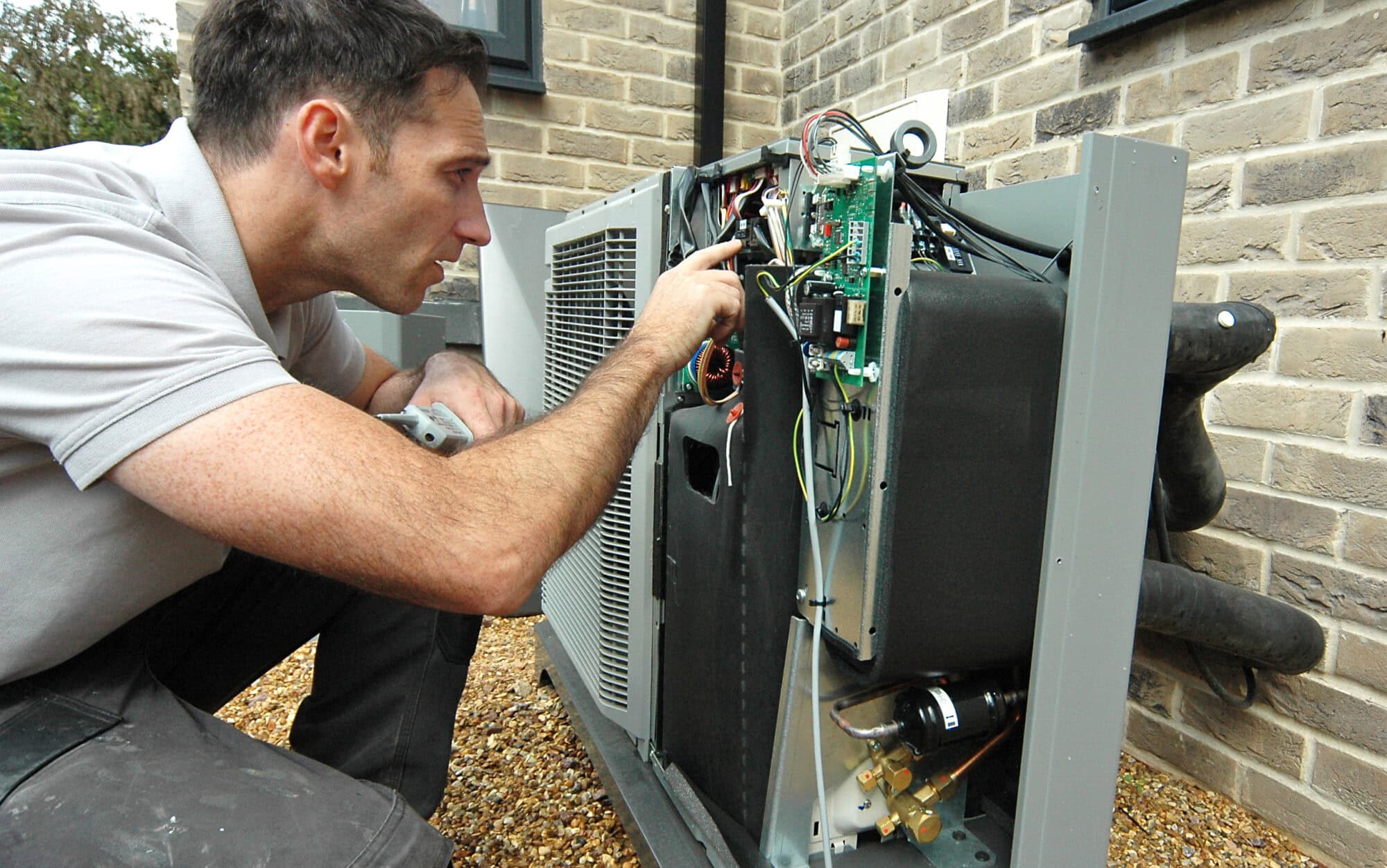 3 key stages of air source heat pump installation
Installing an air source heat pump is simple. There's no need for extensive groundworks and any plumber or heating engineer can install an ASHP with support from Nu-Heat. We can even take on all of the MCS paperwork and commissioning for the system, ensuring the heat pump installation is correct and meets the criteria required for the Boiler Upgrade Scheme.
There are 3 key stages to installing an air source heat pump:
Step 1 – Finding the right heat pump supplier and design
Choosing an experienced supplier that can design the system is essential for a successful air source heat pump installation. You need to be confident that the system will be efficient and work as expected, keeping running costs low. Nu-Heat offers the following as standard:
Advice and guidance on the suitability of an air source heat pump for the project
Full heat loss calculations for the property in order to correctly size the air source heat pump
An accurate quotation for the system components in line with MCS and RECC standards
Support with MCS compliance, including on-site commissioning, required to access the Boiler Upgrade Scheme
Mechanical and electrical drawings specific to the installation as well as clear installation manuals and customer user guides
Step 2 – Installing an air source heat pump
Air source heat pump installation is relatively simple for any plumbing and heating engineer. The heat pump controls and pipework layout are very similar to a traditional gas or oil boiler, configured as a Y or S plan industry standard layout.
The air source heat pump is placed on a flat base external to the property with the appropriately sized flow and return heating pipes and electrical power cable running from the unit into the property
Electrical work should be carried out by a qualified electrician in the conventional way as you would for a gas or oil boiler
To simplify the process, Nu-Heat provides a complete set of 'as installed' mechanical and electrical drawings, which will provide a fault-free template of the complete air source heating system layout.
Step 3 – Getting the heating system up and running
Once the installation of the mechanical and electrical heat pump components is completed, the air source heat pump will be ready for commissioning. As an MCS accredited company, we can help with this final step by providing:
The MCS paperwork – Pass over the cumbersome compliance paperwork to Nu-Heat, freeing up time to spend on the air source heat pump installation. Nu-Heat also completes and provides all of the relevant MCS support documentation required if applying for government grants, the warranties and guarantees.
Onsite commissioning – To ensure the system is MCS compliant, Nu-Heat send out a field service engineer to commission and explain the system set up
Grow Your Business with Heat Pumps
New to heat pumps? Find out how to get started and the support available by watching our popular webinar.
Finding an air source heat pump installer
If you're looking for an air source heat pump installer, we can help you find one through our Registered Installer Network. The simplest way to do this is by using our Find an Installer page. All you need to do is enter your details and we will get you a quote for your system and put you in touch with your local Nu-Heat air source heat pump installer.
If you already have an installer in mind, we can still offer support by helping them fit heat pumps to MCS standards, with a range of commissioning packages.
In order to do this, the installer would need to have the following pre-requisite qualifications:
Part L Energy Efficiency
G3 Domestic Hot Water Systems
Water Regulations 1999
They will also need to hold public liability insurance of over £2million.
Become an air source heat pump installer
If you're a heating engineer that's interested in becoming an air source heat pump installer, now is a great time to get started!
With the government aiming for no fossil fuels in new builds from 2025, the heat pump market is now growing around 20% each year, making it the perfect area for you to branch out into if you are looking to grow your business.
Even better, installing a heat pump is not that different to installing a boiler, so you probably already have the skills. If you are familiar with Y Plan, you will be able to plumb a heat pump.
And don't let MCS stop you. As an MCS accredited company, we can take care of the design, paperwork and commissioning of our products, making sure they are all up to MCS standards, so you can focus on fitting.