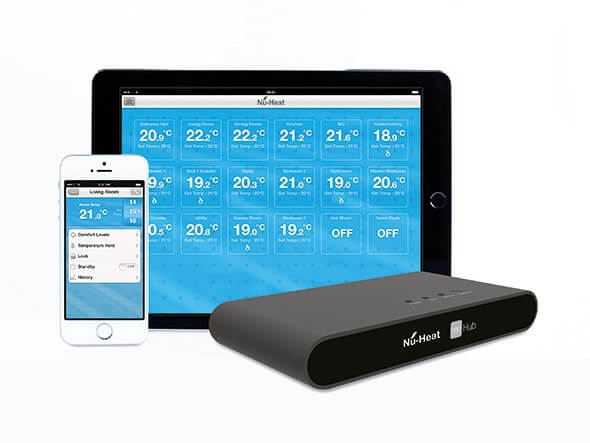 With as many as 66% of UK consumers considering smart homes an appealing concept*, homeowners are increasingly looking to manufacturers and suppliers for new ways to control – and connect – their household gadgets and devices.
Nu-Heat's neoHub+ works with Apple HomeKit
We are pleased to announce that you can now use Apple HomeKit home automation technology to control your Nu-Heat underfloor heating system, when you choose any neoHub+ smart control package.
What is Apple HomeKit?
Apple HomeKit technology provides an easy, secure way to control your home's lights, doors, thermostats and more from your iPhone, iPad or iPod touch.
There are no contracts or subscription fees, and you can easily configure HomeKit control of your Nu-Heat underfloor heating in a few simple steps.
How does it work?
Nu-Heat's neoHub+ responds to Siri and the Apple iOS10 Home app, giving you the option to set and adjust heating temperatures via the Apple Home app or Siri voice control. You can also set HomeKit automations and remotely control your heating settings in conjunction with any other HomeKit compatible products you may have in your home.

How do I get Apple HomeKit?
Apple HomeKit functionality is available with any Nu-Heat underfloor heating system with a neoHub+, which now comes as standard with any of our smart packages. Speak with one of our underfloor heating experts on 01404 549770 to find out which heating system and smart package is right for you.
Already have a Nu-Heat underfloor heating system?
Contact us on 01404 549770 or via info@nu-heat.co.uk to find out how you can upgrade to Apple HomeKit technology.
*Source: GfK smart home study 2015