Experts in underfloor heating & renewables for over 30 years.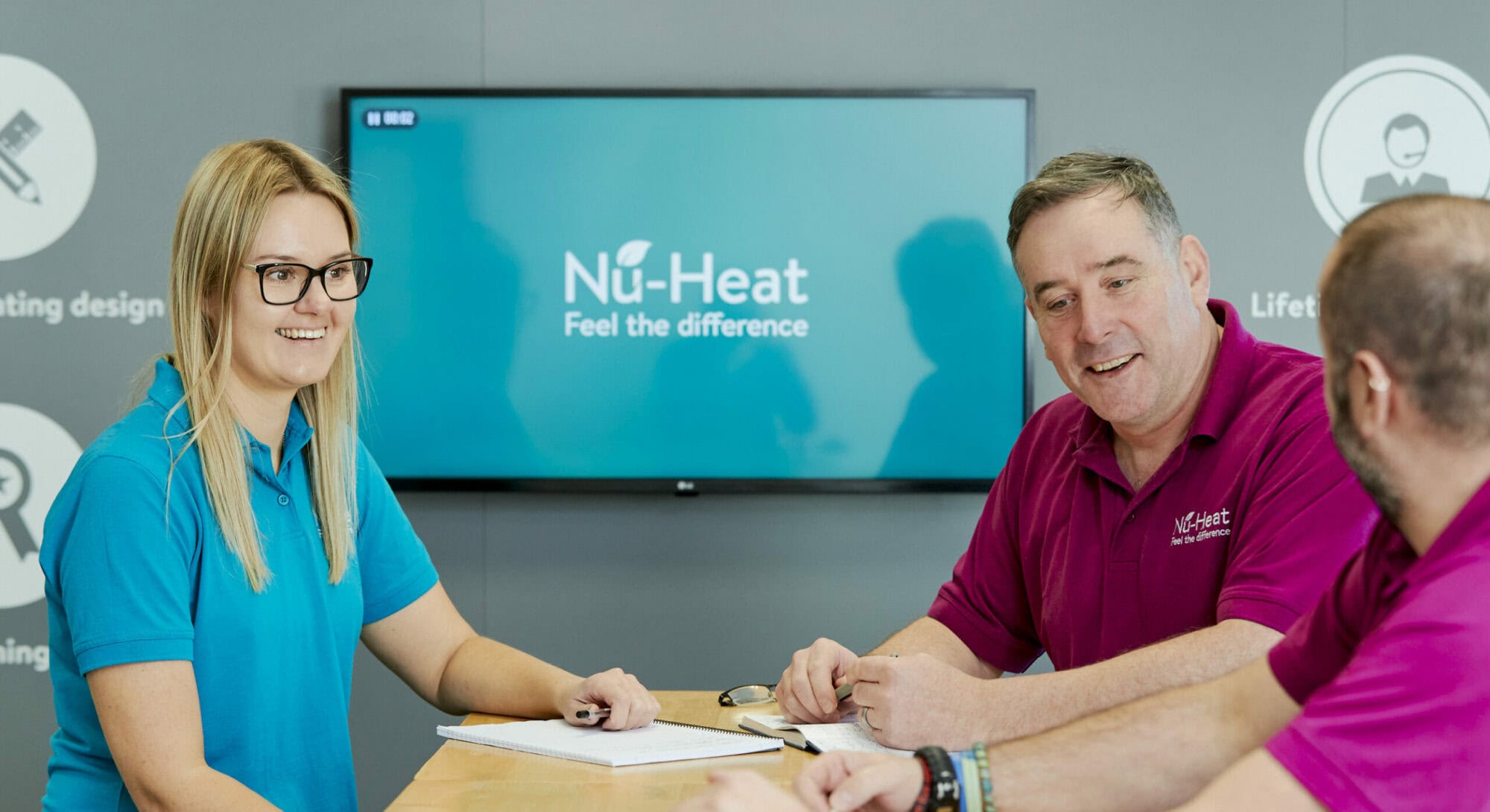 Heating homes in a better way
Nu-Heat was born from a desire to provide underfloor heating solutions in the UK, when in 1992, no supplier existed. Since then, we have been perfecting bespoke, high efficiency home heating systems whilst developing our own industry leading underfloor heating products along the way.
In 2007, we were one of the first underfloor heating specialists to design and supply fully integrated underfloor heating optimised for heat pumps. We now offer a range of air and ground source heat pumps from top manufacturers NIBE and Panasonic, designing complete low temperature, renewable heating systems.
What makes Nu-Heat different?
Backed by lifetime technical support and award-winning customer service, our bespoke heating systems are precisely designed for your project so that you feel the difference.
Because every home is different, we design your heating system to suit your project.
Your system will be tailored to various factors unique to the building, including the layout, heat source, insulation levels, and room-by-room heat loss calculations.
We draw upon our extensive experience and cutting-edge design technology to provide you with a responsive, high efficiency heating system you can trust.
Award-winning customer service
When you choose Nu-Heat underfloor heating you will receive award-winning customer service before, during, and after your system is installed.
We are proud to be the only heating company to be awarded the national ServiceMark customer service award with Distinction from the Institute of Customer Service.
Lifetime technical support
We believe that an underfloor heating system is for life and stand by the quality of our systems and our designs. That's why we provide lifetime technical support for all our systems, whatever the age.
Whether you purchase your system from us directly, or move into a home that already has Nu-Heat underfloor heating, you can always call on us if you need help.
Meet our people
Our people are the reason Nu-Heat is able to offer the very best heating systems and customer experiences. Every member of our team has a passion for heating homes in a better way, whether that's through innovative product development, designing bespoke systems, or delivering excellent customer service.
Simon Cook, Sales Manager
"Working with people who really care about our customers' experiences is one of the most rewarding parts of my role.
Our sales team work hard to ensure they know what our customers' needs are so we can support them through the journey of heating their home in a better way."

Brian Woodcock, National Renewables Manager
"Heat pumps and low temperature heating systems are no longer the future, they are the here and now. It's great to be part of this heating revolution that will make a real difference to the UK's carbon emissions.
Guiding our renewable proposition to our installers and supporting them through our training centre ensures their transition into Nu-Heat low carbon heating systems is smooth and trouble free."
We are really proud to have a network of experienced and qualified installers who we work closely with to support the installation of our underfloor heating and heat pump systems. Here they talk about what it's like to partner with Nu-Heat and fit our products.
30 years going strong!
From our humble beginnings, we have grown into an industry leader in underfloor heating and renewables. Read on for a few of our proudest moments that have helped us get here.
Nu-Heat is founded and our first underfloor heating order is placed by the Garvins

Our first screed underfloor heating system is designed and installed to meticulous, hand drawn installation plans.

We introduce Optimiser, our own heating design software

The first iteration of our industry-leading software is born, allowing us to offer bespoke designed underfloor heating systems tailored to each home.

We add heat pumps and solar thermal to our range

Heat pumps and solar thermal become part of our main offering, allowing seamless integration with underfloor heating. To date, we are one of the most experienced renewables specialists in the UK.

Our first ever retrofit UFH system is developed and released, LoPro®10

Still incredibly popular to this day, our industry-leading LoPro®10 system provides super-slim underfloor heating for existing properties, without digging up floors!

Awarded a Distinction by the Institute of Customer Service

Nu-Heat was built on a foundation of excellent customer service. That's why one of our proudest moments is being the only heating company to win a Distinction from the Institute of Customer Service.

Celebrating 30 years as the experts in underfloor heating and renewables

From our humble origins, we have grown from just 5 staff members to over 150. We now offer over 60 different underfloor heating systems, and are proud to be able use our expertise to help make home heating more efficient and environmentally friendly.
"Nu-Heat made choosing a supplier easy. From our initial enquiry they were informative, efficient and helpful – in fact everything we were looking for" – Roz & Mick Abrahams, Self-builders
"Nu-Heat gave me guidance on the direction they thought I should do, which was reassuring. They were knowledgeable about the products and gave sensible advice on which of them would be right for my project" – David Dawkins, self-builder
"The back-up service at Nu-Heat is brilliant. Four years down the line and if there are any queries they are dealt with straight away" – Warren Cooper, Contractor
"We have specified Nu-Heat underfloor heating for over 10 years. They offer excellent technical support and a comprehensive quotation and specification service" – Chris Carter, Architect
"Having Nu-Heat's technical support team and Project Engineers available to speak to whilst we install complex plant rooms is a massive benefit to us. This, combined with Nu-Heat's high standard of customer service is what makes us a repeat customer." – Stuart Houston, Heating and Plumbing Contractor
We're here to help you with your project
For expert advice on underfloor heating and renewables, contact us today.