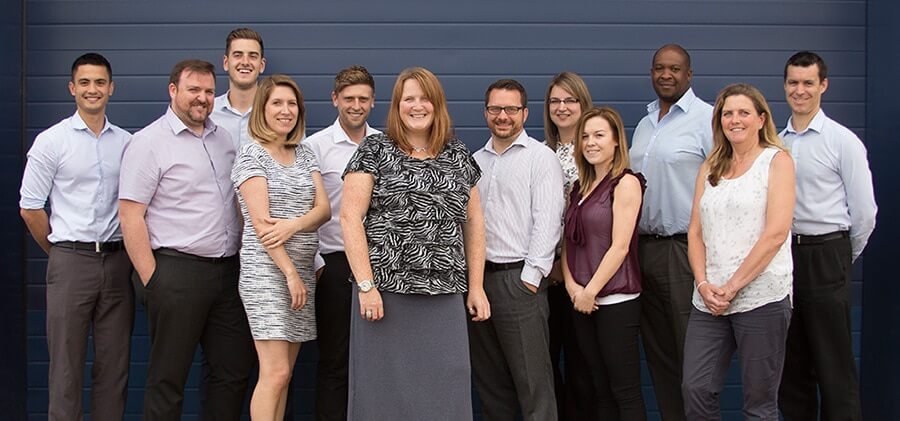 At Nu-Heat we have a dedicated team of Account Managers.  They work with a wide range of customers, from single-project self-builders to loyal installers that have chosen our systems for years.
The Account Managers offer a tailored approach, working with you to understand the project requirements to advise the most suitable solution, providing a quote within 72 hours.  The aim is to always make sure that every project we deal with is delivered right first time, every time.
As they're a team of 12, we'll be introducing them over three separate blog posts.  First up, we speak with Gina, Rachel M and Mark, as well as Jess, the team's Administration Coordinator.
How long have you been at Nu-Heat and what did you do before?
Gina: I joined Nu-Heat over 14 years ago as their only Estimator and then progressed to running a team of two Estimators.  Shortly after I moved over to become an Account Manager and eventually progressed into my current role as a Senior Account Manager.
Rachel M: I've been here for nearly five years.  Before Nu-Heat, I studied for my degree (BSC Built and Natural Environment) in Bristol and worked for Mole Valley Forage Services as part of their sales team.
Mark:  I started two years ago having previously been an Account Manager for an IT company, running projects that included the management of customer records.  I have also worked in retail management and as a sales rep in the roofing industry.
Jess: I joined Nu-Heat nearly three years ago as an apprentice to develop new skills.  I'm now a full-time member of the team.
What's the best thing about your job?
Mark:  The people.  I love working in this team as we all help each other and have a laugh every day!
Gina:  There are a number of reasons why I love working here but it is mainly the people I work with.  As I started when there was only a third of the staff, I have seen it develop into the company it is now and I feel very passionate about Nu-Heat and ensuring that we are a success.
Jess:  I enjoy my role as I get to see so many different projects which is interesting.  It's a very friendly environment and everybody works as a team.
Rachel M:  I like the fact that we deal with so many different types of project – every day is different and there's never a dull moment!  It's great to work for a family run company that has been going for over 20 years.
Do you have a favourite product or project?
Rachel M:  The LoPro® range has really opened up the market and has enabled more people to enjoy the benefits of UFH.
Mark:  LoPro®Max is my favourite product as it opens up the door to renovation projects that might otherwise not be suitable for underfloor heating.
Gina:  I wouldn't say I have a particular favourite, but I do have a strong belief in everything we do as a company and our ethics.
In our next Meet the Account Managers post, we'll be speaking with Alec B, Mike, Rachel and Simon. Click here to view the post.