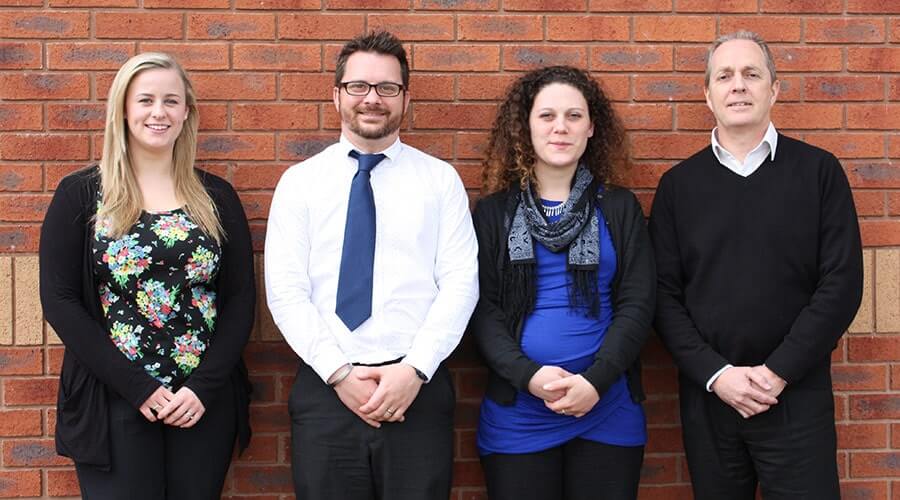 It's likely that the Business Development Team will be your first port of call when you get in touch with Nu-Heat.
A team of four, they are more than just our front of house friendly faces (or voices!) – they are all knowledgeable in UFH and renewables, helping any type of customer, whether an installer, self-builder or contractor, to decide whether UFH is right for their project.
In this Meet the Team, we chat with Simon, Flore, Hannah and Gary to find out why they enjoy being a part of our Business Development Team…
What does your team offer customers?
Simon: We are here to help with initial enquiries on UFH and renewables, providing advice that leads the customer to the best solution for their project – even if that means telling them that UFH isn't right for their property!
Flore: Plenty of advice on all of Nu-Heat's products and services. We always ensure that every customer receives the best service and experience.
Hannah: As well as advice over the phone, we also attend shows across the country throughout the year, like Homebuilding & Renovating. This gives our customers a chance to see the products and talk through their plans face-to-face. We also arrange site visits and these are a real benefit for more complex projects.
Gary: I specialise on commercial projects, so offer expertise and knowledge for any commercial queries.
What did you do before joining Nu-Heat?
Hannah: I've worked at Nu Heat for 4 years. Before joining Business Development, I worked in the Operations Team, arranging deliveries and processing parts orders, which gave me a good knowledge of our products and how the systems integrate.
Gary: I've been a part of Nu-Heat for around 11 years! More recently, I was one of the Commercial Account Managers, working on large and complex projects from luxury houses to apartment developments.
Simon: Prior to Nu-Heat I had 10 years' experience working in differing field account management positions supporting brokers throughout the UK. Most of my previous positions have been based around customer service and support.
Flore: I love sewing and used to be an account manager for a sewing machine shop in west London, advising customers on the right machine for their needs whether rented or bought.
What's the best thing about your job?
Gary: The fact that every incoming call is different. You never know if it's going to be a single conservatory or a development of 150 apartments!
Flore: I like being able to build relationships with customers to ensure their initial contact with Nu-Heat is a positive one.
Simon: I enjoy working here as it's a very ethical business that truly values its customers, reputation and products. These values make it easy to promote what we do confidently. Also, being an innovative company, we are always learning about our newly released products and facing new challenges.
Hannah: It's great being able to speak to a variety of customers – self-builders, installers, architects – as they all have different needs and questions. I always find it interesting listening to the individual projects and being able to specify a product that will work brilliantly, fitting in with their requirements.
Do you have a favourite product or project?
Simon: LoPro®Max is a fantastic product that meets the needs of most homeowners looking to make improvements to their homes and living lifestyle.
Hannah: I enjoy working with our LoPro®Max solution. It has opened up the opportunity to use UFH in a wider variety of projects, including those where it can be difficult to improve the insulation right up to Building Regs standards. Our manuals paired with this simple solution make installation easy yet still gives our customers that peace of mind that they are getting a well thought-out product with a good guarantee and aftercare support.
Gary: Mine would be the Bezier Building, a development of 144 apartments in Old Street London that have our UFH installed. It's a great looking building that's based on the Bezier Curve.
Flore: A function room for a Marriott hotel. It was a tricky project due to the building being listed and lots of glazing, but we worked with them to offer a solution and the support that they needed.
For our next Meet the Team, we'll be talking to our Account Managers, putting a face to the name of the main contact in your Nu-Heat journey.