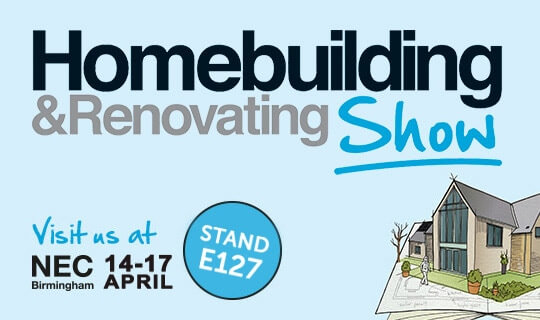 The National Homebuilding & Renovating Show
Whether you're planning to build your own house, add a spacious new extension or want to remodel the internal layout, a visit to The National Homebuilding & Renovating Show is a must.
Our experts will be on stand E127 to offer advice and guidance on how you can integrate underfloor heating and renewables into any upcoming projects.
We've shared some tips on how to make the most of your visit in this blog post. Don't forget to bring a set of plans so that we can provide a free bespoke quote within 72 hours.
Attend our masterclass
We'll be holding a 20 minute masterclass on Thursday 14th April at 11:30 to talk about underfloor heating options for a self-build or renovation project. There is no need to book – just be sure to show up early to get a seat!
Where and when is the show?
14th – 17th April 2016
National Exhibition Centre, Birmingham, B40 1NT