Inner Park Road is a three story timber framed construction of eight luxury apartments above commercial premises, in Wimbledon, London, by LR Lima Construction Ltd. Each apartment has been built to a high specification, offering an open kitchen/living area and a minimum of two bedrooms, a bathroom and ensuite.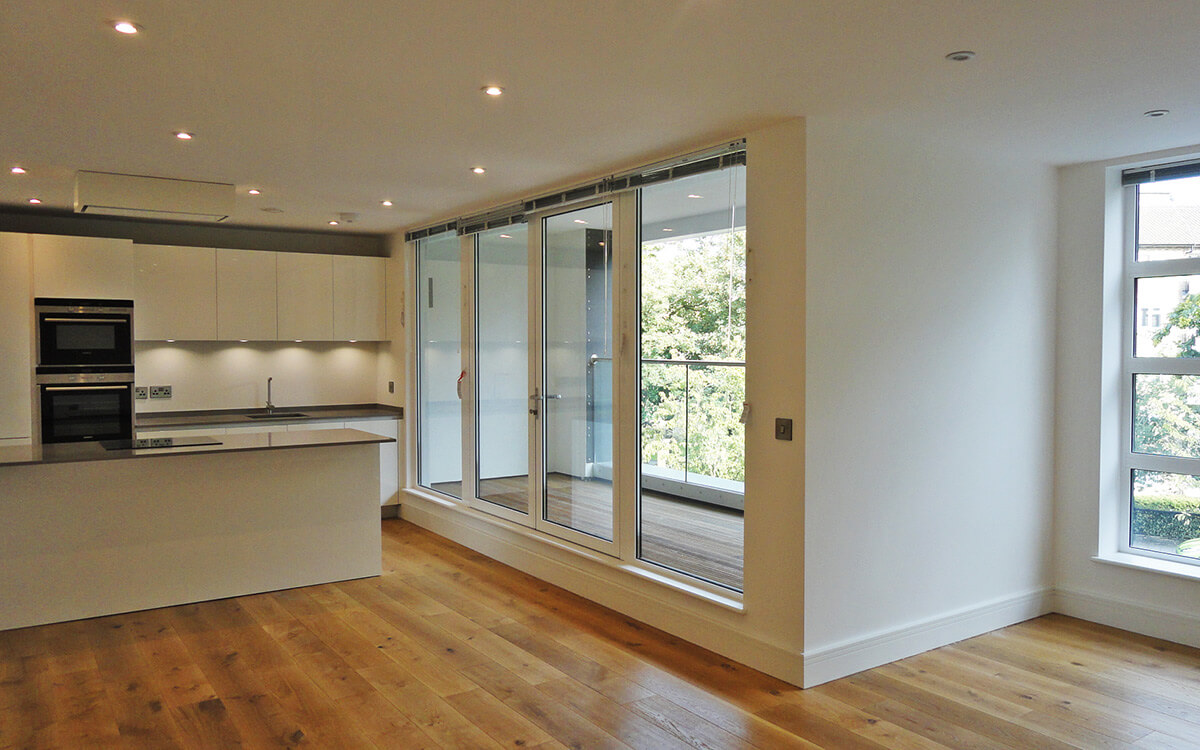 | | |
| --- | --- |
| Project details: | A three story timber framed development of luxury apartments with commercial space on the ground floor in Wimbledon, London. Total floor area 381.5m2 |
| Requirements: | To provide a low profile UFH solution that exceeds Part E by 5dB (resistance to sound) |
| Solution: | A bespoke low profile acoustic UFH solution, comfortably exceeding the requirements of Part E |
The project requirement
As an exclusive development of apartments above commercial space, Inner Park Road required an underfloor heating solution that met Part E acoustic compliance (resistance to sound) and could also simply integrate with their floor cassette, whilst still giving high heat outputs.
Nu-Heat was asked to provide an UFH system with noise reduction properties to achieve a minimum of 5dB above Part E.
The Nu-Heat solution
Nu-Heat's Commercial team worked with LR Lima to develop a bespoke acoustic UFH solution, exceeding the initial project requirement.
"For Inner Park Road, we specified an acoustic screed floor construction for the first floor, separating the commercial and domestic space, and ADPK14, a 48mm slim profile acoustic UFH solution that offers a high heat output of up to 112W/m2, for the remainder of the building.
The low height build-up of ADPK14 trimmed the floor cassette depth by 49 mm over the previously specified timber batten solution, saving valuable floor to ceiling height. The acoustic performance of the solution made it ideal for the project with the build site test showing an 8dB airbourne and 15dB impact improvement on Part E. [See the full results here.]
The apartments use our network ready controls that enable the end user to operate their UFH through their smartphone or tablet via an app."
Andrew Butt, Nu-Heat Commercial Account Manager
"First Class service, helpful, without a doubt very professional. Hence the reason we keep coming back for your business."
LR Lima Construction Ltd.
Products
ADPK14 – floating
This dry, slim profile acoustic solution using Knauf brio gypsum fibre board was the specified solution for Inner Park Road.
An acoustic floor cassette to exceed Part E requirements
Low floor build-up of 48mm plus floor finish
High thermal conductivity
Compositional Mass of floor produces a high quality solid floor finish
Simple dry application, enhancing site continuity
ADPK14 heat output
| | | | |
| --- | --- | --- | --- |
| Water temp | R = 0.05 (tile) | R = 0.1 (timber) | R = 0.15 (carpet) |
| 40°C flow (35° average) | 59.62 W/m2 | 56.66 W/m2 | 53.70 W/m2 |
| 50°C flow (45° average) | 99.37 W/m2 | 94.44 W/m2 | 89.51 W/m2 |
ASC14 – screed
On the first floor ASC14, an acoustic screed UFH solution, was used.
An acoustic floor cassette to meet Part E requirements
Robust detail
High thermal conductivity
Compositional Mass of floor produces a high quality floor finish
Simple, quick application
ASC14 heat output
| | | | |
| --- | --- | --- | --- |
| Water temp | R = 0.05 (tile) | R = 0.1 (timber) | R = 0.15 (carpet) |
| 45°C flow (40° average) | 66 W/m2 | 59 W/m2 | 44 W/m2 |
| 55°C flow (50° average) | 99 W/m2 | 88 W/m2 | 66 W/m2 |
Acoustic performance of ADPK14 – in the lab and at Inner Park Road
Airborne dB

Impact dB

Rw lab test reading

Site test DnT,w + Ctr

Improvement over Part E

Site test L'n,w

Improvement over Part E

Estimated performance:
Nu-Heat ADPK14
Timber structural deck with floating floor & brio 23 over

61

51

6

55

7

Actual performance:
Nu-Heat ADPK14
Timber structural deck with floating floor & brio 23 over

61

53

8

47

15

Minimum requirement Part E Building Regs – New build

45

62
Call Nu-Heat on 01404 540650 or email info@nu-heat.co.uk to discuss your upcoming projects. You can also view our Underfloor Heating page for more information