Floating floor OneZone® kit
A light-weight underfloor heating solution for upper floors and suspended timber floor structures.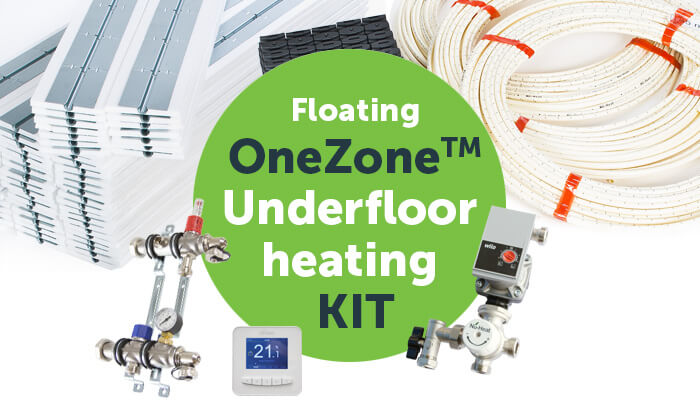 Floating OneZone® is a popular option for extensions and first floors and is well suited to renovation projects with good levels of insulation. As with all OneZone® systems, it includes high quality components that offer reliability and ease of installation. You also have a choice of two market-leading thermostats; either the all-in-one SmartStat or the wireless neoAir.
The system consists of conductive heat diffuser plates that are attached to lightweight and slim polystyrene panels. These panels are fitted across the floor and the underfloor heating tube is pushed into them. A chipboard or final timber deck should then be laid directly on top of the panels to create a stable floor that is suitable for a wide range of floor coverings.
Why choose Floating OneZone®?
Good thermal conductivity – heat outputs up to 80W/m2
Fast response time
Relatively low height increase
Lightweight panels make the system quick and simple to install
A completely dry solution, so floor coverings can be fitted immediately
Can be controlled independently or with an existing timeclock
Choice of two market leading thermostat options offering smart control
What's included in this OneZone® pack? – (click to expand)
Pre-assembled single-zone manifold, based on the same high quality design used for Nu-Heat fully designed systems, reduces installation time
Pump and blending valve module, complete with isolation valves for easy pressure testing
Pipe distributor set (4-way for systems less than 35m2, 8-way for systems 35m2 and over)
Thermo-electric actuator
OneZone® wiring centre with labelled terminals for a straightforward installation
10mm Fastflo® underfloor heating tube
Low profile heat diffuser panel
Individual tube staples
A choice of programmable thermostat – either the hard-wired SmartStat with integrated smart control or the wireless, battery-powered neoAir, with the option to upgrade to smart control
Detailed installation manuals and user instructions
Delivery by carrier within 2 days
Free technical support over the phone, if required
Buy online
You can order a Floating OneZone® kit online, through the Nu-Heat Webstore. Simply select the room size and thermostat option from the drop down menus below to be directed to the online shop.
Choose from two market-leading control options:

Hard-wired, all-in-one SmartStat
SmartStat is a hard-wired thermostat with built-in smart functionality for flexible heating control via smartphone or tablet. Simply download the SmartStat App to a chosen device to adjust the heating from any location.
Wireless neoAir
A popular option for renovation projects, the wireless neoAir avoids the need for chasing any wires into walls, protecting décor. It can also be easily upgraded to offer the same smart control functionality as the SmartStat by adding the neoHub (please call us on 01404 549770 to upgrade). The neoAir system includes an RF switch, enabling wireless control of the boiler and pump, avoiding the need to run cabling from the wiring centre back to the boiler.