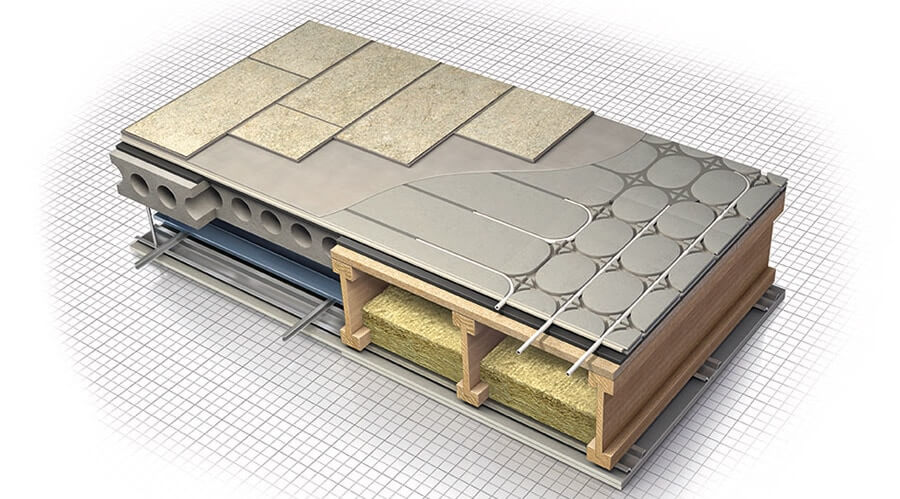 Nu-Heat's new acoustic underfloor heating (UFH) solution, produced in partnership with Knauf and Thermal Economics, will be showcased at EcoBuild this year. AcoustiPanel®14 comprises a pre-routed gypsum board over a high performance IsoRubber-UFH-NH base, into which Nu-Heat's 14mm Fastflo® tube is neatly installed.
When installed as part of an acoustic floor cassette, AcoustiPanel®14 with 5mm IsoRubber-UFH-NH has been proven to reduce airborne and impact sound transmission through suspended timber floors, assisting in exceeding Part E compliance standards. The system is suitable for new-build and renovation apartments where an efficient and discreet underfloor heating solution is required as part of an acoustically robust system.
The combination of tongue and groove panels and self-levelling skim offers high thermal conductivity, allowing quick transfer of heat into the room as well as an extremely stable and level floor.
As a low profile, acoustic solution with outstanding performance AcoustiPanel®14 provides a sustainable, high quality, fit-and-finished floor section. Installation of the routed panel is simple and similar to that of a typical tongue and groove deck, and the thin skim coat dries overnight with no impact on the site programme.
This tailor-made acoustic UFH system offers:
Just 31mm height build-up
Less thermal mass – between 36.2-44.9kg/m2 (depending on panel configuration) – compared with 50mm liquid screed at 77.4kg/ m2 and 65mm sand and cement at 120.4kg/ m2
Simple installation directly over a level screed section or structural working deck
No mechanical fixings required, meaning quick installation and fewer materials
A panel with interlocking edges – results in a solid, flat surface
Single manifold, up to 100m2 – for a quick installation, using less material and plant space
Heating and floor deck in a single solution
Recycled gypsum & IsoRubber-UFH-NH content
Point load tested to BS EN 6399-1 – high performance figures resulting in minimal floor deflection ideal for high-end stone and ceramic floor finishes
Full design indemnity
For specification data and more information visit our new build page or call 01404 549770
Meet our UFH & renewables experts at Ecobuild, 8-10 March, on stand E3276