LoPro®10 key facts
Award-winning LoPro®10 - our low-height floor construction for retrofit.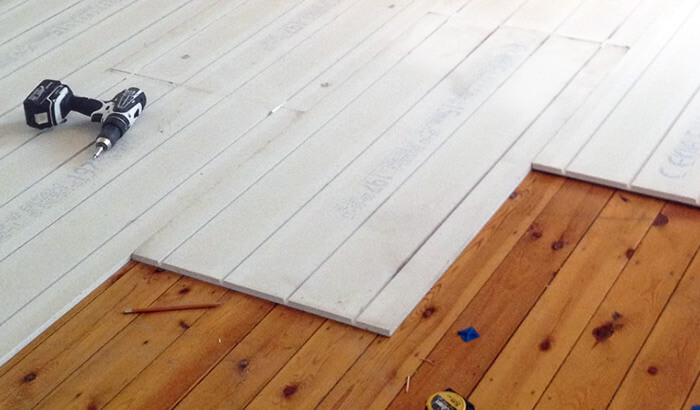 The biggest challenge to installing underfloor heating in an existing building is often height build-up. In response, Nu-Heat developed LoPro®10, a floating floor with just 15mm height build up and excellent thermal properties that can be fitted on top of the existing floor deck.
Nu-Heat's LoPro®10 retrofit UFH system has been designed as an alternative method of heating existing domestic properties. Homes built within the last 20 years and those that have undergone fairly standard insulation upgrades can now benefit from all the advantages of underfloor heating usually reserved for new-build.
LoPro®10 provides a practical, economical alternative to a traditional radiator-based system and is designed for use with existing or new gas/oil/lpg condensing boilers. A LoPro®10 system typically requires a flow temperature of 45°C-55°C – much lower than a typical radiator system which would have a flow temperature of 70°C-80°C and complementing the performance characteristics of condensing boilers perfectly.
LoPro®10 benefits
Standard 15mm depth before floor coverings are fitted
10mm ultra flexible PEX-c pipework is easily laid in the panels in lengths of up to 60m
Provides airborne acoustic reduction on timber upper floors by adding mass –15.5kg/m2
Fixing system enables 10mm PEX-c to be closely laid up to 10 abreast, enabling easy run back to the manifold
Integrates with the existing heating system
Can be used on ground and upper floors of the building
Dense rigid thermal gypsum board can be tiled on directly with just a thin de-coupling layer
Can be used with carpet and underlay, vinyl and linoleum
Laminates and engineered floors can be floated directly over the panel
Watch our LoPro®10 video
Performance – heat output
Nu-Heat's LoPro®10 system will provide varying heat output dependent on water flow temperature and the thermal conductivity of the final floor covering. As a general rule, hard finishes such as tile and stone will produce the highest heat outputs followed by timber and carpet. Nu-Heat includes heat loss calculations to verify the suitability of the chosen floor finishes and ensure heat output will meet expectations for all fully designed LoPro®10 systems.
Maximum heat output figures for LoPro®10 in living areas based on 10°C differential temperature
Available heat flow (W/m2)

Flow water temperature

40°C

45°C

50°C

55°C

Natural stone/tiles

56

74

92

110

14mm engineered board

42

56

68

82

2 tog carpet/underlay

28

36

46

54

Indicative figures for general guidance only
Increasing acoustic performance
To increase the acoustic performance of LoPro®10 Nu-Heat recommends the addition of our rigid 10mm acoustic fibreboard. This layer is optional and is usually specified for use in suspended timber first floors, flats, apartments and loft conversions, etc.
LoPro®10 quick start guide & installation manual
You can download the PDF here.