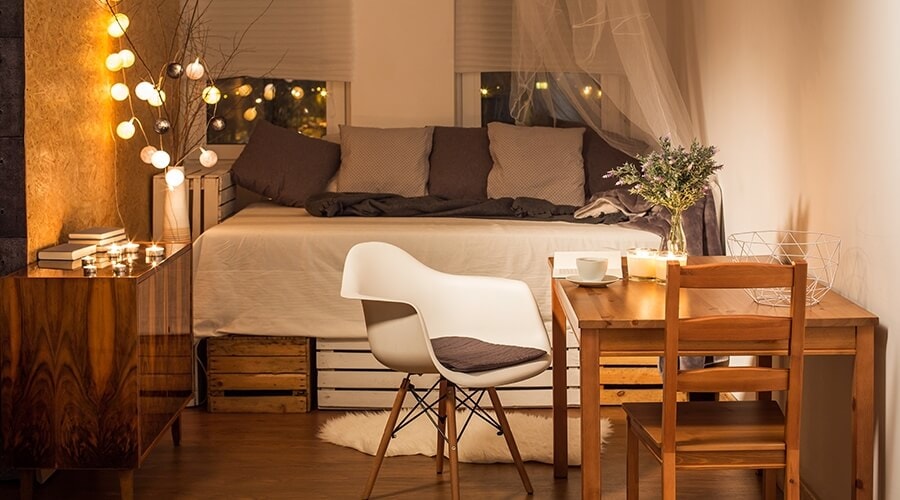 What is hygge?
Hygge (pronounced hoo-ga) is an abstract term that is all about creating and enjoying a cosy environment. An integral part of Danish life, hygge focuses on making the most of life's simple pleasures.
Hygge in your home
Anyone can embrace and enjoy hygge in their home – it's all about you and your style.
Here are three ideas to help you create a comforting, hygge home:
Get cosy

You can't beat coming back to a cosy home. Widely adopted in Nordic countries, warm water underfloor heating provides a gentle, radiant warmth to hundreds of thousands of homes. Easily fitted in both new and existing properties, underfloor heating ensures every part of your home is heated evenly – no more cold spots or draughts. This type of heating system also transforms the feeling of your floor coverings. Once you've experienced the feeling of warm tiles underfoot, the slippers will go in the bin!For that extra-cosy living space without the added cost of a log burner, you can create a faux fireplace, stacking it with firewood, various candles or jars full of fairy lights.

Think about lighting

Lighting can make a huge difference to the ambience of a room. Create a little snug by adding a freestanding lamp to a dark corner, or change the atmosphere by fitting a dimmer switch to your main living room light. Candles, a must-have for hygge, are also a great way to create an intimate and relaxing space.

Add some texture

Soft furnishings such as knitted throws, cushions and heavy winter curtains can help to give a real homely feel. You can even get creative and take some time out to make your own home accessories.
Above all else, it's important to remember that a hygge home is made to be shared with friends and family. So get your favourite cookbook out, turn off the TV and invite your nearest and dearest over to enjoy the beautiful space you have created.
Find out more about underfloor heating for your cosy home at www.nu‑heat.co.uk or call us on 01404 549770.