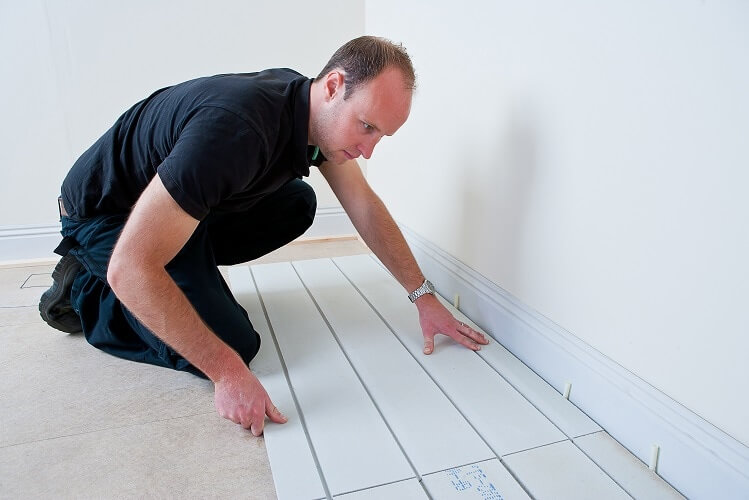 Underfloor heating (UFH) is clearly one of the most desirable heating systems for a home.  Because of this, the demand for UFH in an existing building, as part of a renovation or extension, is becoming more common.
With a wide range of systems specifically developed for retrofitting now available, installing UFH in a renovation project is easier than ever before, but there are still various factors to consider.
We thought we'd help by sharing and answering the most common questions we receive on retrofitting UFH:
What should I be looking for in a retrofit system?
To begin with, you need to take the project suitability into account before choosing underfloor heating. In a renovation, it's likely that there are lower levels of insulation.  If this is the case, then you need to check the heat output of the system VS the heat losses of the building.  A good supplier of UFH will calculate the heat losses for you and then recommend a system that is guaranteed to perform.
For a new extension, or a property that is being refurbished to current Building Regulation standards, you have a wider range of options.  Take a look at the various solutions to see how easy they are to install.  Is it a simple system, using boards that can go directly over the existing floor?  Are the boards pre-routed, to save you time? Depending on the project, height build-up could be important so always check the total height of the system.
How long does it take to install a retrofit UFH system?
The install time depends on the size of the project, but generally quality retrofit systems are quick and simple to install.  Even new LoPro®Max, a wet system that uses a self-levelling compound, can be walked on after just eight hours and is ready for floor coverings – even large format tiles – after only 72 hours.
One of our Registered Installers recently installed a 40m² LoPro®Max system in under 4 hours and had the floor coverings down three days later.
Do all retrofit systems use pre-routed boards?
Pre-routed gypsum boards, like LoPro®10, or polystyrene panels with metal heat diffuser plates, are the most common type of retrofit UFH system on the market.  As dry systems, they are easy to work with and have very little impact on build schedules.
The latest innovation in UFH is new LoPro®Max, a wet retrofit UFH system that uses a vacuum-formed castellated panel to hold the UFH tube in place before covering in a specialist self-levelling compound.  The advantage of this system is that the compound is highly conductive, producing an output that is 50% higher than other traditional retrofit systems.  This superior output makes UFH suitable for a wider range of projects where it would not usually be an option.
Will I have to dig up the existing floor?
No, the purpose of most retrofit UFH systems is that they are simple to lay over the existing floor deck without the need for excavation.  All of Nu-Heat's retrofit solutions are laid directly over the floor.
Can retrofit systems offer a good enough heat output?
Definitely. It's important to remember that the fabric of the building can make the level of heat output critical. Some projects will require less output than others.
If the building has low levels of insulation then it could rule out the majority of retrofit solutions that can reach approximately 80W/m².  In this situation, you would need to opt for a solution like LoPro®Max that benefits from a higher output of 120W/m².
Can I install UFH in any renovation project?
You could install UFH in any project, but you need to be confident that it can meet the heating needs of the building, although there is always the option of installing an additional heat source such as a log burner for occasional use or in the odd room with very high heat loss.  Because of the lower flow temperatures of underfloor heating, it's important that the heat losses and levels of insulation are taken into account.
If there is scope to improve the current levels of insulation without too much disruption, then do so.  The most important thing is that the underfloor heating can perform as expected.  Nu-Heat will work with you to provide the heat loss calculations and recommend a suitable solution.
Check out Nu-Heat's LoPro® range
Find out more about our LoPro® range of retrofit solutions, or ask us a question to one our .