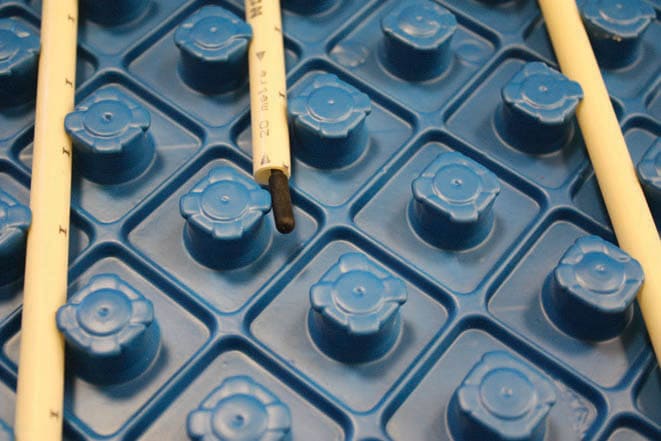 What is an Underfloor Heating Sensor?
The temperature of an underfloor heating system is controlled via a thermostat that reads the temperature of the room through sensors. With underfloor heating, it's common for there to be two types of sensor installed, the usual air sensor (in the thermostat itself) as well as an underfloor heating probe, or floor sensor. There are a couple of reasons why you might want to install an underfloor heating sensor, and we'll explain these below.
Does Underfloor Heating Need a Floor Sensor?
Not always – UFH will work with just an air sensor – but there are a few scenarios when installing an underfloor heating floor sensor is recommended.
The main reason to install an underfloor heating probe is to protect the floor coverings. With UFH the floor is warmed and some floor coverings can be sensitive to heat. Both vinyls and wood usually come with maximum temperatures that they can tolerate. By installing a floor sensor, you can limit the floor temperate and relax knowing that the floor will never overheat, so the floor coverings will not come unstuck or warp.
Another reason you might install a floor sensor is so that you can achieve a desired floor temperature, rather than an air temperature. This is popular in bathrooms or kitchens, often with electric UFH and hard flooring, where you might want the floor to feel really warm underfoot. The thermostat can be set to achieve a particular floor temperate, rather than air.
How do I Install an Underfloor Heating Sensor Probe?
When installing a floor sensor, you should always follow the manufacturer's instructions supplied however, there are some general rules that should be applied when installing any underfloor heating probe.
The probe should be placed equal distance between heating wires and should never cross a heating wire.
The probe can be installed either above or below your electric underfloor heating mat.
Areas in which the temperature may be affected such as near external doors or on heating pipes, should be avoided.
How do you Test an Underfloor Heating Probe?
During installation, the underfloor heating probe should be tested to ensure it is working correctly. This will be done by the installer. In order to do this, they will use a digital multimeter. A multimeter is an electronic measuring device that can usually measure voltage, resistance and current. In this case, your installer will be measuring resistance (ohms Ω).
To test if the underfloor heating sensor is working correctly, they will attach the multimeter probes to the floor sensor cable. At normal room temperature, the multimeter should read 10kΩ at 25°C. If this is the case your sensor cable is working correctly and the install can be completed.
For more information on underfloor heating sensor probes, please do not hesitate to get in touch with our team!