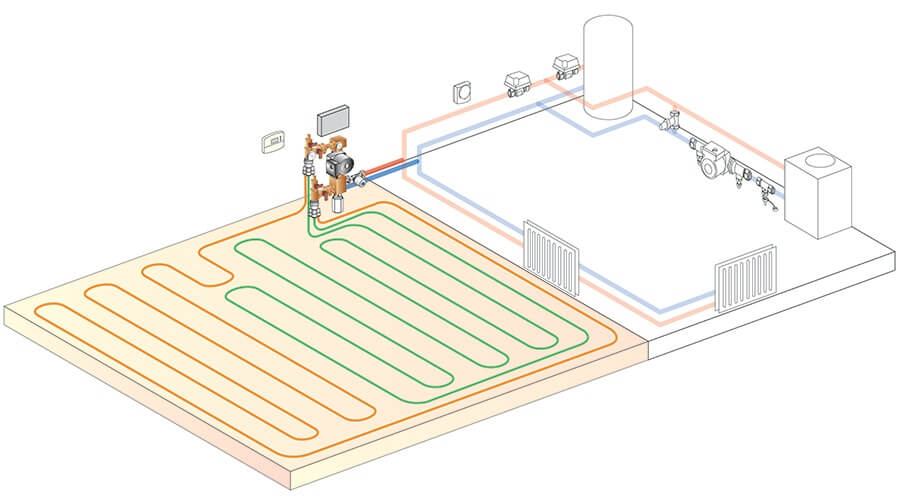 With so many versatile underfloor heating (UFH) systems on offer, the possibilities for hybrid UFH and radiator systems are increasing.
Thanks to these developments, there's no longer a need to choose either-or as UFH and radiators can both be successfully installed in a property to create a flexible and efficient heating system.
Combining UFH and radiators in a renovation
Even though UFH is often an ideal solution for every room of a property, there are still situations where you might prefer to retain existing radiators in some areas. This might be because you want to avoid the disruption of removing an existing radiator, or perhaps there is no budget to replace the entire heating system.
For example, you might want to enjoy the benefits of UFH in a new extension whilst retaining radiators in the remainder of the house. As the new extension will have to be built to current building regulation standards, there will be plenty of insulation present and it will be suitable for the majority of UFH systems, depending on the sub-floor.
In this scenario, UFH can be installed without the need to disrupt the existing radiator system, it can even run off of the existing radiator circuit – great for new kitchens or living spaces.
Installing UFH alongside radiators
The process of installing UFH alongside an existing radiator system is simple. It is quite common for a homeowner to choose UFH for one floor level, opting to keep radiators upstairs, or to have UFH installed in one single space, as mentioned in the example above.
One of the key considerations is how the UFH is controlled alongside the radiator system. The type of UFH system installed will affect this:
If the UFH is a standard screed or floating floor system, it will work at its best with independent control from the radiators to cater for the difference in heat-up time.
If the UFH is a retrofit system, like LoPro®Max, that offers a high heat output, you can choose to run the UFH directly from the existing radiator circuit. This option means there's very little disruption to existing decoration, as there is less wiring to be installed. This solution heats up and cools down as quickly as a traditional radiator system and it is also very simple to control, using the existing time clock.
New build – when UFH is the best option
In a new build, you need to consider whether it's worthwhile installing radiators at all. UFH is easily installed as part of the build schedule and it is also cost-effective, offering far more benefits than a radiator system at a comparable cost.
For a new build project utilising a heat pump, it would be best to choose UFH throughout. This is because UFH is around 40% more efficient than radiators when paired with a heat pump as it uses a much lower water temperature than required by radiators (radiators would also need to be oversized).
Still not sure on the best solution for the project? Call 01404 540650 and one of our team will be happy to help.