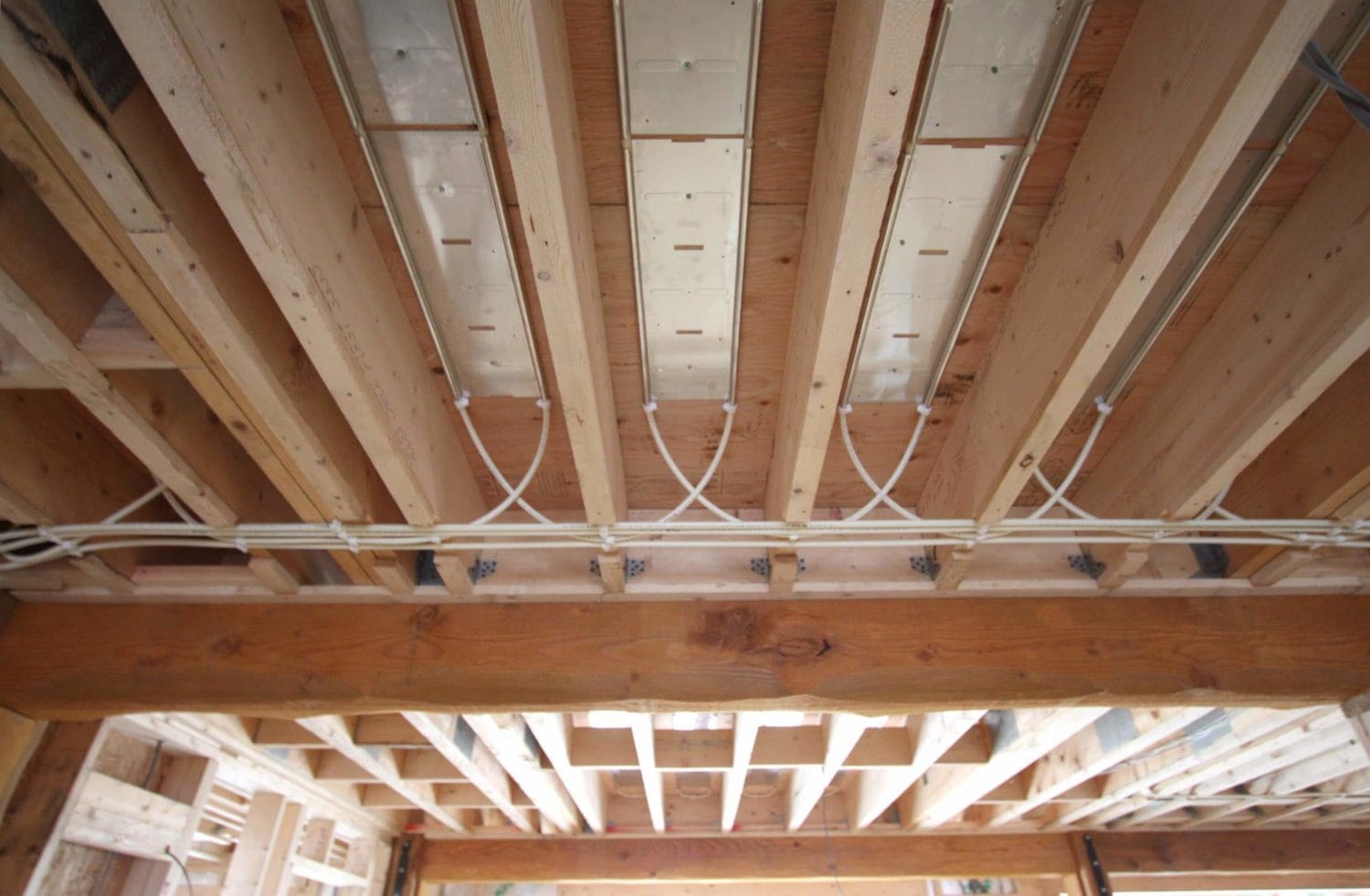 First floor underfloor heating – can it be done?
Yes, of course! In fact it's pretty simple to install warm water underfloor heating (UFH) on both ground and first floors.
Underfloor heating maximises available floor space and is a safer option for children's bedrooms than radiators. Installing underfloor heating on both the ground and first floors will improve the overall efficiency of the heating system – particularly where a heat pump has been specified. You can also opt for a solution that offers acoustic benefits, reducing airborne and impact noise transmission.
For a straightforward and quick installation, keeping costs down, it is important to choose the right system for the job.
A great first floor underfloor heating solution should be safe to install, lightweight and offer:
No, or little height build-up, either being concealed in the floor deck or a low profile system laid on top of the deck
Flexible installation – either from below after the floor deck has been laid, over joists before the deck is down, or laid over the existing floor deck
The 2 most popular first floor UFH systems
There are many first floor underfloor heating systems to choose from, which can be broken down into two main categories:
 1. Metal heat transfer plates
Metal heat transfer plates, like Nu-Heat's ClippaPlate® system, are placed on or between joists to hold the underfloor heating tube. The heat transfer plate, designed specifically to act as a thermal conductor, improves both response times and ease of installation.
There are a few different systems of this type on the market, they vary considerably in the way they are installed and their quality.
Installing underfloor heating between joists or on joists
Flexibility is key for successful first floor underfloor heating installation. Choose an underfloor heating system that can be fitted on first floor timber joists from above before the deck is laid, or between timber joists from below after the deck is laid.
This allows underfloor heating installers to work on site, without affecting the build schedule of the other trades.
Underfloor heating between joists
Installing underfloor heating between timber joists from below, once the upper floor deck has been laid, is quicker and safer and also enables other trades to continue with work upstairs – everybody wins. If you're unsure, we can help you choose.
Underfloor heating on joists
Where the heat transfer plates are fitted on timber joists, the heating tube can be fitted from below if it is more convenient. This is a bonus in terms of health and safety, as there will be no balancing on joists to install pipework.
Nu-Heat's ClippaPlate® system is compatible with most types of joists: traditional timber, TJI/I-beam and steel braced systems (Eco-joists, Posi-joists, etc).
It is important to choose a strong metal plate system that will hold the underfloor heating tube flush against the floor deck – this helps to give an effective heat transfer. If the metal plates are too thin they could sag or bow over time, meaning that the underfloor heating will have to heat an air void, which can impact response times drastically. Our tried and tested ClippaPlate® system won't let you down.
A plated underfloor heating system is likely to be cheaper to purchase than other joisted floor solutions and is quick to install, meaning an effective heating system that is affordable to buy, install and run. First floor underfloor heating has never been easier.
2. Low profile pre-routed gypsum boards
LoPro®10 is an example of a retrofit UFH system that is also regularly used in new builds. It's a popular option when a floor joist structure makes installing underfloor heating between joists impractical, or the decision to include UFH is made later in the build schedule.
This solution offers a good acoustic performance, helping to reduce airborne and impact noise transmission to rooms below.
Systems of this type are easy to install and are simply laid over the floor deck. Gypsum conducts heat well, giving an even heat output and quick response times. The overall height build up is just 15mm and floor finishes can be fitted directly over the panels.
LoPro®Lite is another popular retrofit underfloor heating solution that fits on top of your existing floor. It's easy enough to install yourself.
How to install underfloor heating upstairs
Now that you know the two main types of first floor underfloor heating, here's a video about how to install it upstairs.
Installation tips for first floor underfloor heating
If solid joists are present, follow building regulation rules on notching to allow the UFH tube to pass between joist bays. Alternatively, fit a 15mm batten to the bottom of the joist leaving a gap for the tube to pass through.
Work in pairs – one person lays the plate and the other follows behind with a drill fixing it to the joists with screws.
Once the heat spreader plates are securely in place (either on or between timber joists) the underfloor heating tube can be fitted – one person holds the tube and another clips it into place. Because the spreader plate is metal and slightly pliable the tube can be easily pushed into position. It should be possible to fit a first floor 20m2 room with in just 30 minutes.
Organise first floor underfloor heating installation like an assembly line, so that while one person push-fits the tube in place, the other can prepare the next room. This will allow you to maintain momentum throughout the job.
Underfloor heating is an established heating method, delivering comfortable and cost-effective warmth, and is easier to install on upper floors than you might think!
If you're still wondering about how to install underfloor heating upstairs, contact our friendly team for expert advice.
Underfloor heating on suspended timber floors
Underfloor heating can be installed on any suspended timber floor with wooden joists – whether on ground or upper floor levels.
Warm water underfloor heating (UFH) in a suspended timber floor offers all the benefits associated with this form of heating without adding height to the overall floor construction. This makes suspended floor underfloor heating a popular new build solution.
How to retrofit underfloor heating on a suspended timber floor
Retrofitting suspended floor underfloor heating into the first floor of an existing property can be straightforward, if the homeowner is happy for either the existing floorboards to be taken up or the ceiling below to be removed. If not, there are other floor constructions that may be more suitable, such as LoPro®. This ultra-thin underfloor heating solution can be installed on top of your existing floor.
First floor rooms typically require less heating than ground floor living areas, partly because they are likely to be over a heated space, meaning an underfloor heating solution is often suitable for retrofit projects throughout the whole house.
What about ground floor suspended timber floors?
Heat transfer plates can be used on suspended ground floors where there is sufficient insulation present. Not a problem in a new-build, which will have been built to meet building regulations, but something that needs consideration in a retrofit scenario.
If the insulation needs to be upgraded, mineral wool in a bag can easily be clipped to the sides of the timber joists. Standard mineral wool can be laid on top of netting, or solid insulation panels can be cut to fit and wedged/fixed in place between the joists.
Any heating system has to produce sufficient heat output to warm the building effectively. Metal heat transfer plates have a built-in advantage, as they will heat up relatively quickly and on/off times can be programmed in a similar way to a radiator system.
Acoustic underfloor heating options for multi-floor flats and apartments
For flats, apartments and communal buildings, underfloor heating is available as part of an acoustic floor cassette. This incorporates a gypsum panel as part of the floor deck and meets pre-completion testing criteria. Alternatively, you can install the plate over an acoustic batten fitted to the top of the floor deck; this is fine for situations where the level of the flooring deck can be raised.
Need help choosing a first floor underfloor heating system?
Thinking of installing underfloor heating on your first floor or within a suspended timber floor, but unsure where to start? We are happy to talk you through the most suitable system for your project. You can speak to one of our experts by calling 01404 549770.