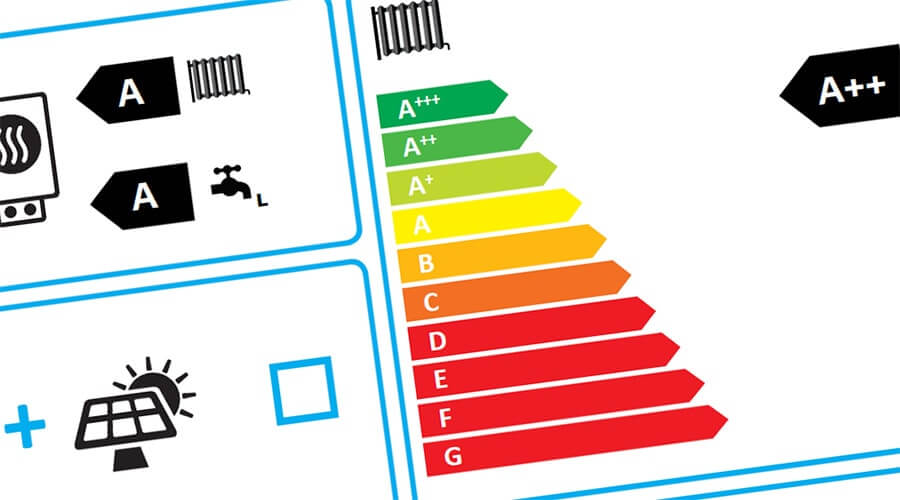 The introduction of the Energy Related Products Directive, or ErP, means that all new heating systems will now come with a product and package label to give a clear rating of their energy efficiency. Its purpose is to make the efficiency of heating products easier to compare, helping homeowners and installers to make informed and eco-friendly decisions.
In this blog post we're taking a closer look at an energy efficiency label for a system package. This type of label would be provided whenever a heat source such as a heat pump or boiler is paired with another add-on product, such as thermostats or solar thermal, to create what is known as a 'package.
ErP label – an overview
You can see a breakdown of the different elements of the label on our annotated version below. Click on the image to enlarge:
Heat source efficiency
The top left box includes the energy efficiency rating(s) for the heat source. For a combi boiler you would see a rating for both heating and hot water. For a standard gas boiler or heat pump without a built-in water cylinder or instant hot water capability you would just see a rating for heating.
System heating rating
The top right box shows the system's energy efficiency rating for heating.
System domestic hot water rating
The bottom right box shows the system's energy efficiency rating for hot water. This rating is only applicable if the heat source is a combi boiler or a heat pump with a built-in water cylinder.
The extras
The bottom left box shows the optional system 'add-ons'. These include solar thermal, a hot water storage tank, thermostats and a supplementary heater. Whenever one of the additional components is part of the overall system package, the box will be checked. These components can affect the overall heating and hot water efficiency of the system e.g. solar thermal will improve the efficiency.
» For more info on ErP, visit our ErP page.