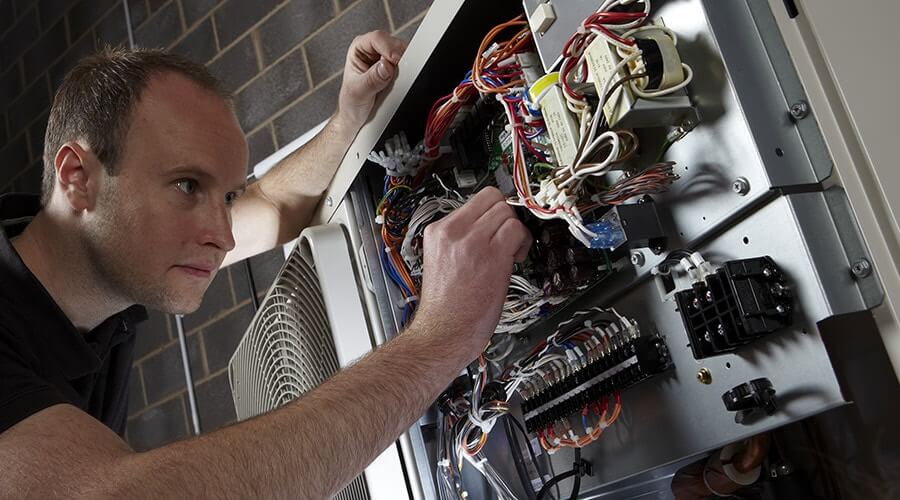 With the RHI incentivising homeowners and an ongoing focus on more efficient ways to heat properties, now is a good time to embrace low carbon heating technology. An air source heat pump (ASHP) is a popular renewable solution that is suitable for a wide range of projects from small to large.
ASHPs are simple to install, without the need for extensive groundworks, and any plumbing & heating engineer is able to install these units with the help of our MCS support packages, where we take on all of the MCS compliance paperwork and can also commission the system if required.
In this post, we're taking a closer look at the key stages of installing an ASHP and the support Nu-Heat offers.
First off, is the property suitable?
Insulation
The most important consideration when checking the suitability of an ASHP for a project is how much insulation is present. A well-insulated property will prevent heat escaping, enabling the heat pump to work efficiently at lower flow temperatures, providing the homeowner with an effective, economic heating system.
The insulation present in all new build properties built to Part L1A, and generally those built in the last 10 years, are likely to be suitable for an ASHP.
Older properties will require insulation upgrades such as loft, cavity wall and glazing improvements in line with Part L1B of the Building Regulations.
Access to mains gas
In an existing property, an ASHP is generally suitable only if there is not access to mains gas. This is because the homeowner will see a greater return on investment when compared to the cost of running their previous oil, LPG or electric heating system.
New build properties that have access to mains gas are still suitable for an ASHP, which will perform very efficiently, and this option is often chosen when aiming to create an eco-home that is not reliant on fossil fuels.
Planning permission
Most ASHP installations will fall into the category of permitted development in line with MCS020, so will not require planning permission. Obviously, it is important to check this before getting started!
If the property is listed, in an AONB or Conservation Area or requires more than one heat pump unit, planning permission will be required and the homeowner will have to apply for this.
For more information on ASHPs and planning permission, you can read one of our previous blog posts.
The heat emitter
ASHPs operate most efficiently when connected to low temperature heat emitters, such as underfloor heating or a combination of underfloor and radiators.
If traditional radiators are the preferred option, it's worth bearing in mind that they will need to be sized in line with the lower water flow temperatures associated with heat pumps; this means they are generally twice the size than those used with a gas or oil boiler.
Installing an ASHP – the key stages
Step 1 – Finding the right supplier and ASHP design
Choosing an experienced supplier is essential when it comes to heat pump system design. You need to be confident that the solution will be efficient and work as expected. Nu-Heat offers the following as standard:
Advice and guidance on the suitability of an ASHP for the project
Full heat loss calculations for the property in order to correctly size the ASHP
An accurate quotation for the system components in line with MCS and RECC standards
Support with MCS compliance. This cuts down significantly on the amount of time an installer needs to spend on paperwork and is essential should the homeowner wish to apply for the Government's RHI scheme (annual tax-free financial support payments)
Mechanical and electrical drawings specific to the installation as well as clear installation manuals and customer user guides
Step 2 – Installing the product
Installing the ASHP unit is relatively simple for any plumbing & heating engineer. The heat pump controls and pipework layout are very similar to a traditional gas or oil boiler, configured as a Y or S plan industry standard layout.
The ASHP is simply placed on a flat concrete base external to the property with the appropriately sized flow and return heating pipes and electrical power cable running from the unit into the property
The electrical work should be carried out by a qualified electrician in the conventional way as you would for a gas or oil boiler
To simplify the process Nu-Heat provides a complete set of 'as installed' mechanical and electrical drawings, which will provide a fault-free template of the complete system layout.
Step 3 – Getting the system up and running
On completion of the first and second fix installation of the mechanical and electrical heat pump components, the ASHP unit will be ready for commissioning. It's this element of the install that can be seen as a little daunting for a first-time ASHP installer, which is why Nu-Heat offers various levels of support:
Onsite commissioning. To ensure the system is MCS compliant, Nu-Heat can send out one our own field service engineers to commission and explain the system set up and functionality of the heat pump controls
MCS paperwork. Whether MCS or non-MCS registered, an installer can choose a support package to pass over the cumbersome compliance paperwork to Nu-Heat, freeing up time to spend out on the job and not in the office. Nu-Heat also completes and provides all of the relevant MCS support documentation for the homeowner's RHI application, warranties and guarantees
On commissioning the installer will also receive a handover pack that is passed on to the homeowner that includes everything required for MCS compliance as well as user guides.
For more information on ASHPs, visit our heat pumps page.