EnergyPro® cylinders for boiler systems
Nu-Heat's EnergyPro® indirect unvented cylinders work with a gas or boiler as the primary heat source. An immersion heater is factory-fitted to provide short-term, occasional backup for the water heating.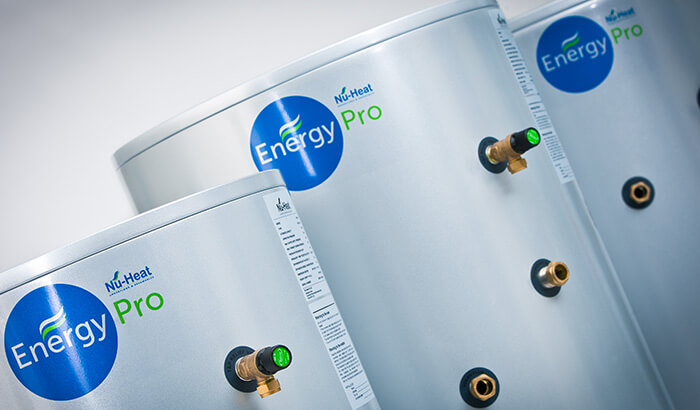 Cylinders in Nu-Heat's EnergyPro® range meet all relevant UK and European standards and are covered by a 25-year warranty.
Benefits
Lightweight duplex stainless steel construction
High flow rates (up to 50 litre/min) with minimum pressure drops
Pressure tested to 10bar
Insulated in excess of the requirements of Part L, using CFC- and HCFC-free fire-retardant foam with a Global Warming Potential of 2.8, and Ozone Depletion Potential of Zero
Smooth-walled coils for good heat transfer and low pressure drop
Supplied complete with connection fittings, and G3 equipment comprising inlet group, tundish, temperature and pressure relief valve (factory fitted) and wholesome water expansion vessel
Optimum connection positions at the front of the unit for ease of installation, easy access and minimal space requirements
Connection for optional EnergyPro® Hot Water Loop
Powder-coated case
EnergyPro® indirect cylinders for boiler systems

EN200
EN300
EN400
EN500
Total capacity (litres)
194
290
390
495
Standing loss (W)
78
92
102
115
Cylinder weight when full (kg)
256
373
501
617
Boiler/HP coil surface (m²)
0.67
0.77
1.16
1.25
Energy efficiency class
C
C
C
C
EnergyPro® indirect cylinders with solar coil for boiler systems

EN300S-A
EN400S-A
EN500S-A
Total capacity (litres)
290
390
495
Standing loss (W) at 65°
92
102
115
Cylinder weight when full (kg)
378
477
630
Boiler/HP coil surface (m²)
0.64
0.77
0.77
Solar coil surface area (m²)
0.77
1.15
1.28
Dedicated solar volume
167
199
284
Energy efficiency class
C
C
C