Heat Pumps: Why Choose an Air Source Heat Pump
What is an air source heat pump and how do they work? Here's how our quiet, efficient air source heating systems can save you energy and money.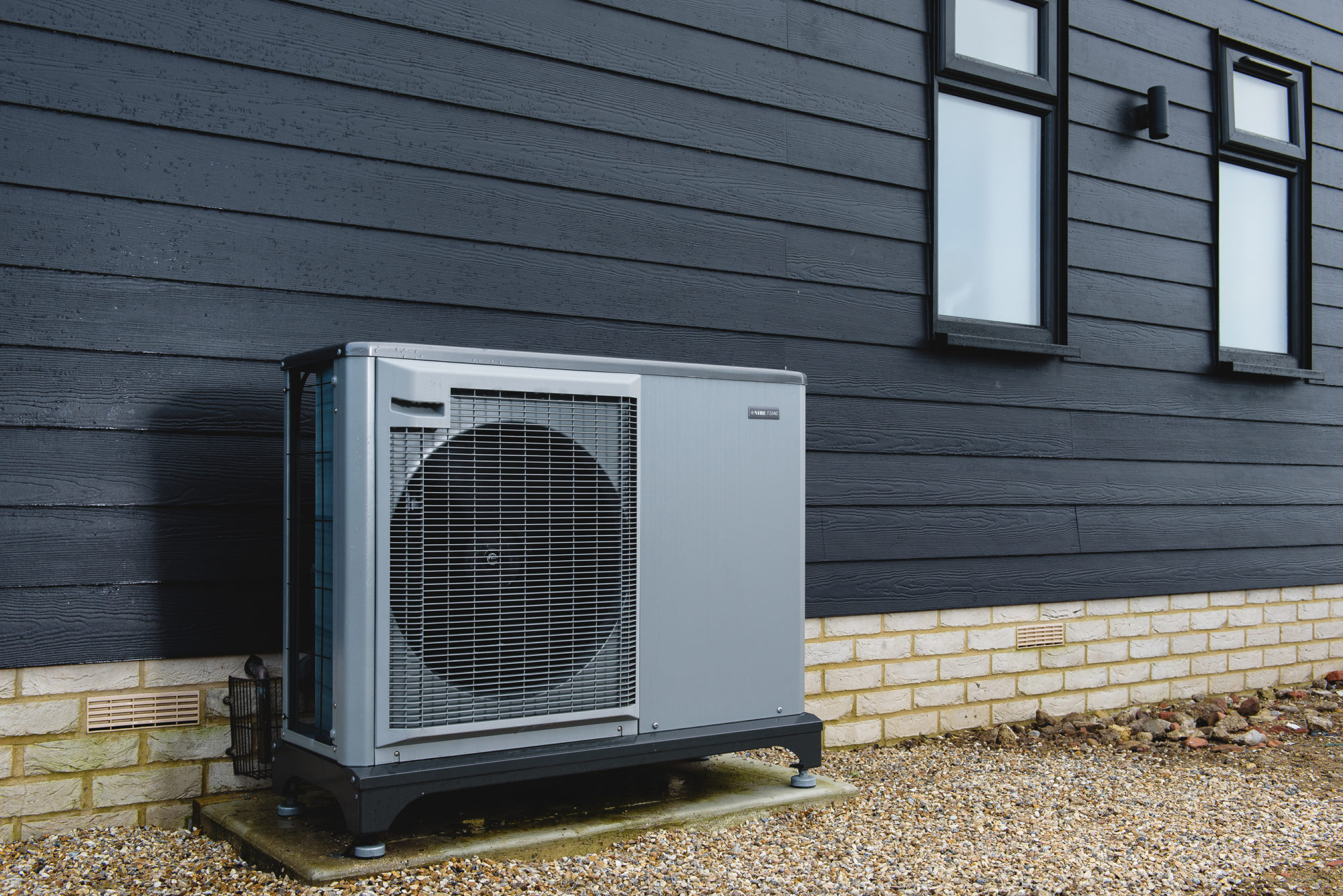 ---
Which type of heat pump should I choose?
| | | |
| --- | --- | --- |
| | Air Source | Ground Source (ground loops) |
| Efficiency | Much more efficient than boilers, but generally less efficient than a ground source heat pump | Generally more efficient than air source heat pumps |
| Aesthetics | Unit located close to the property | Ground loops are invisible once fitted |
| Sound | All produce some noise, but some are much quieter than you might expect | Very quiet operation |
| Planning | Can fall under permitted development, but also need to meet MCS020 standards | Planning permission is generally not required (subject to groundworks & archaeological considerations) |
| Site | Suitable for smaller sites | Suitable for larger sites |
| Property suitability | Suitable for most properties – number of required heat pumps is dependent upon property size | Generally more suitable for medium to large properties |
| Example installation cost for a 250m2property | £11,500 | £15,000 – £20,000 |
| Example RHI tariff payments over 7 years (Ofgem figures, Sept 2018) | £8,400 | £17,500 |
---
---
What are the running costs of an Air Source Heat Pump?
A correctly designed ASHP system can provide low running costs that are on par with mains gas, so you benefit from a greener way to heat your home that is also cost-effective long term.
Off the gas grid? An ASHP is even more appealing as it's likely to offer you significant savings on running costs. Take a look at this running cost comparison:
| ENERGY SOURCE | INPUT COST | EFFICIENCY | RUNNING COST |
| --- | --- | --- | --- |
| ASHP | 15.0p/kWh | 300% efficient |  5.0p/kWh |
| Mains Gas | 4.3p/kWh | 89% efficient |  4.8p/kWh |
| Oil | 4.9p/kWh | 91.6% efficient |  5.3p/kWh |
| LPG | 5.8p/kWh | 89% efficient |  6.6p/kWh |
| Electric | 15.0p/kWh | 100% efficient |  15.0p/kWh |
| Logs | 8.3p/kWh | 80% efficient |  10.4p/kWh |
| Coal | 6.3p/kWh | 80% efficient |  7.9p/kWh |
| Wood Pellet | 5.5p/kWh | 90% efficient |  6.1p/kWh |
*Please use this table as a guide as energy prices can vary.
---
RHI payments
| | |
| --- | --- |
| RHI Payments | Air source heat pump |
| RHI Tariff payment pence / kWh | 10.71p |
| Potential RHI payments over 7 years using an air source heat pump* | £7,000 |
*An average three-bed house using 15,000kWh of heating per year with a SPF of 2.7 for the ASHP. February 2020.
The cost to have an air source heat pump installed varies, but as a rough estimate, it is usually around half of the cost of the unit itself.
Looking for an installer? We can help through Nu-Heat's Registered Installer Network.
---
NIBE Model
6kW
8kW
12kW
16kW
CoP at 7/35 °C*
3.5
4.3
4.5
4.53
Operating voltage
230V 50Hz
Weight (kg)
66
90
105
135
Dimensions (height includes stand)
H791 x W993 x
D364 mm
H945 x W1035 x
D422 mm
H1045 x W1145 x
D452 mm
H1500 x W1145 x
D452 mm
Max sound power level (dB(A))**
50
54
57
61
---
---
---
Is my property suitable for an air source heat pump?
Providing the property is well-insulated, an air source heat pump is likely to be suitable. Insulation is really important because it prevents heat escaping, enabling the heat pump to work efficiently at lower flow temperatures.
The levels of insulation in new build properties, and generally those built in the last 10 years, are likely to be suitable for an air source heat pump. Older properties will require insulation upgrades like loft, cavity wall and glazing improvements.
I don't have access to mains gas – could a heat pump be a suitable alternative?
A heat pump could be a particularly cost-effective choice if your property doesn't have access to mains gas. This is because for every unit of electricity the heat pump uses, it typically outputs three times the amount in heat energy. You can expect a heat pump to be more efficient and cheaper to run than an electric-only heating system or an LPG boiler.
Can air source heating be installed in an older building?
Yes, it can, providing that the insulation is being improved – ideally as close to current build regulations as possible. This enables the air source heat pump to work efficiently and keeps running costs low.
Does my property need to be well-insulated to have a heat pump?
Insulation should be up to modern Building Regulation standards to ensure the heat pump both effectively and efficiently heats the property.
How efficient are air source heat pumps?
An air source heat pump is around 300% efficient. This is because for every unit of energy it uses to extract heat from the air, it typically outputs over 3 units of heat energy into the property.
How do I find a heat pump installer?
We can help you to find an installer for your heat pump through our Registered Installer Network.
If you already have an installer in mind, we can support heating engineers to fit heat pumps to Microgeneration Scheme standards, offering a range of commissioning packages.
The installer will need to have the following pre-requisite qualifications:
Part L Energy Efficiency
G3 Domestic Hot Water Systems
Water Regulations 1999
They will also need to hold public liability insurance of over £2million.
What are the incentives of buying an air source heat pump?
An air source heat pump is a low-carbon, efficient renewable technology. A big benefit is that it offers a cleaner and greener way to heat a home – no fossil fuels.
Aside from their eco credentials, an ASHP is also inexpensive to run and cost-effective in most projects, especially when you factor in the potential payback through the Renewable Heat Incentive.
The Microgeneration Certification Scheme or MCS is often described as the renewables equivalent of Gas Safe. You will need your heat pump system to be MCS compliant if you wish to benefit from RHI payments for your installation.
Do I need planning permission to install an air source heat pump?
In the majority of cases an air source heat pump does not require planning permission, falling under Permitted Development in line with MCS020. Obviously, it is important to check this before getting started!
If the property is listed, in an Area of Outstanding Natural Beauty or Conservation Area, planning permission will be required.
Are heat pumps compatible with underfloor heating?
Yes! Heat pumps are at their most efficient when operating at lower temperatures, making this technology a perfect partner for underfloor heating (UFH), which operates at a much lower flow temperature than radiators.
Heat pumps can still be used in conjunction with radiators, but the radiators would need to be oversized in order to heat the property adequately.
How much space do I need for an air source heat pump?
Not much! The air source heat pump unit is fitted outside of the property. You will need some space inside for the domestic hot water cylinder, buffer tank and the other components.
For heat pumps up to 12kW, you need a footprint around the same size as a standard hot water cylinder – similar to a large airing cupboard.
What floor coverings should I choose with heat pump powered UFH?
Heat pump powered underfloor heating works best with highly conductive floor coverings such as stone or ceramic tiles, vinyl or lino. If the floor covering has good thermal conductivity, the heat pump and UFH can operate at a lower flow temperature for optimum efficiency.
How far away does the heat pump need to be from my neighbour's house?
The actual distance a heat pump needs to be from a neighbouring property depends on the unit used and any fences, hedges, walls etc. between the heat pump's location and the assessment position. This is covered by MCS020 – something we take care of for you.
How do I control my heat pump – are they easy to use?
You can easily control your heat pump via a series of icons on the control panel that enable you to set heating and domestic hot water (DHW) schedules, as well as view live operating data and current temperatures. Every on-screen menu has a help button which provides clarification on each of the functions.
Can any plumber install an air source heat pump?
Yes. Any competent plumber can install an ASHP to MCS standards with our support.
Will my heat pump come with a warranty and how long do they last?
Yes. Our heat pump systems come with a 7-year warranty when commissioned by a Nu-Heat engineer.
How can I ensure it is installed correctly?
Nu-Heat offers a unique air source heat pump MCS support package. This includes an on-site commissioning visit from one of our engineers who will check that the ASHP has been installed correctly.
My heat pump is weather compensating – what does this mean?
Nu-Heat supplies NIBE heat pumps that offer weather compensating technology.
Weather compensation works by adjusting the amount of energy it uses to achieve the desired inside temperature, according to the outside weather conditions. For example, your heating system will not have to work as hard to achieve and maintain a set minimum inside temperature on a warm summer's day as it would in the depths of winter.
This is a more efficient alternative to a traditional central heating schedule, which will fire up the boiler to deliver heat to your radiators at certain times of the day or night, regardless of the outside temperature, and only regulates the heat output according to the temperature of the water circulating around the system.
How long does it take to install?
Plumbing an air source heat pump takes a similar amount of time to installing a conventional boiler. Electrically, heat pumps are a little more involved, so it may take a couple more hours to wire than a boiler.
Will my heat pump system provide enough hot water at peak times?
Yes. The most efficient way to provide domestic hot water (DHW) for your home is to allow the DHW cylinder to remain 'topped up', with the heat pump operating to replace the used hot water.
Most heat pumps can be set to switch on a standby electric immersion heater to ensure that you always have hot water when you need it.
Are air source heat pumps noisy?
No. An air source heat pump makes less noise than the flue of a gas boiler. NIBE ASHPs are the quietest on the market thanks to their Owl Wing Technology.
Do heat pumps work in cold weather?
Yes. Heat pumps work effectively year-round.
The top 15m of the Earth's surface maintains an average year-round temperature of 12ºC. Ground source heat pumps (GSHPs) use this heat source to supply the energy required to heat domestic water, and a low temperature heating system such as underfloor heating.
Air source heat pumps work in a similar way, except they extract available warmth from passing air rather than from the ground. In theory they should be able to extract useful energy from the outside air down to temperatures as low as -15°C. The storage cylinder provides both domestic hot water and a boost of heating energy in the coldest weather.
What are the maintenance processes and costs?
An air source heat pump should be serviced yearly to maintain the warranty and to ensure the system is working as it should be. Servicing is also a requirement under the Renewable Heat Incentive. It costs around £200-£300 for an annual service.
Can I use my heat pump 24 hours a day?
Yes, absolutely. It's the most efficient way.
What is the lifespan of an air source heat pump?
NIBE air source heat pumps come with a 7-year warranty when commissioned by a Nu-Heat engineer but you can expect a life expectancy well in excess of 10 years.
Will an air source heat pump work with my existing radiators?
No, we would not recommend it. Air source heat pumps are at their most efficient when producing low flow temperatures. Because of this, they should be paired with low temperature heat emitters, like warm water underfloor heating.
This stops the heat pump from overworking and keeps running costs low. Radiators are still an option but they would need to be oversized to effectively heat the room/s with lower water temperatures.
Can you program an air source hear pump to provide heating at certain times?
Yes, you can, but we would advise against it. This is because an air source heat pump is designed to work as a weather compensation system, running as and when needed to heat the home, rather than at predefined times.
Is an air source heat pump just an off-grid option?
No. Well-insulated properties that have access to mains gas are still suitable for an air source heat pump. Providing it is designed and installed correctly, the running costs will be low – comparable to mains gas – but with the added bonus of lower carbon emissions and quarterly RHI payments.
You will find that air source heat pumps are generally more popular in off-grid areas, and this is because they offer far lower running costs in comparison to oil, LPG or electric-only heating systems.
Want help finding the right renewables solution?
We would love to speak with you to discuss your project. If you have a question about your existing Nu-Heat system, our technical support team are at hand.