Air source heat pumps
Installing a NIBE air source heat pump could reduce energy consumption for heating by 50% compared to electric heating systems.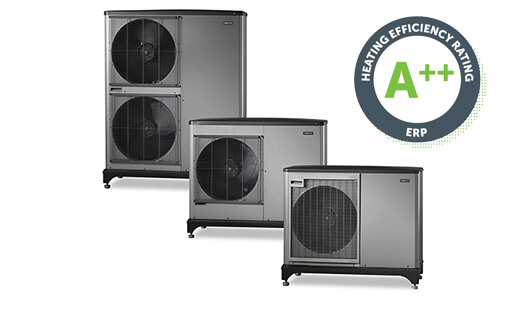 Benefits
The NIBE range of air source heat pumps are suitable for new build or existing properties. They can be installed on almost any kind of terrain and are supplied in a range of sizes – 6kW, 8kW, 12kW, 16kW – to suit small, medium or large homes as well as light commercial buildings.
A NIBE ASHP offers:
Quiet operation
Improved energy efficiency
MCS approved offering access to the RHI
Supplied with a full set of mechanical and electrical docking drawings
Remote monitoring and adjustment of the system with NIBE Uplink – read more
Easy installation thanks to simple wiring, adjustable feet and long hoses
7 year guarantee when supplied and commissioned by Nu‑Heat
Which ASHP will I need?
Nu-Heat will use factors such as the size of the property, location and domestic hot water demand to determine the size of the heat pump. Every property is different, and we will recommend the right solution based on your individual project.
Heat pump performance & technical information
Model

F2040-6

F2040-8

F2040-12

F2040-16

CoP at 7/35°C *

3.5

4.3

4.5

4.5

Operating voltage

230V 50Hz

Max. outgoing heating medium temp.

58°C

Refrigerant quantity (R410A)

1.5kg

2.55kg

2.90kg

4.00kg

Height with stand

791mm

945mm

1045m

1500mm

Width

993mm

1035mm

1145mm

1145mm

Depth

364mm

422mm

452mm

452mm

Weight

66kg

90kg

105kg

135kg

Max sound power level Lw(A) **

50

54

57

61

* In accordance with EN 14511 for heat source entry at 7°C/hot water flow at 35°C. In a well-insulated property every single kilowatt of electricity used to power the heat pump can provide up to three kilowatts of free energy. This ratio is known as the Coefficient of Performance (CoP)
** In accordance with EN-12102
NIBE ASHP Control Modules
SMO20: Supplied with single heat pump systems, the SMO20 is a standard control
module that enables flexible operation.
SMO40: The advanced SMO40 is supplied with dual heat pump systems for domestic
properties and can control up to eight heat pumps in commercial projects.
Multicolour display with user instructions and multilingual support
Controls both heating and domestic hot water
Clear information about status, operating time and all temperatures
Large, easy-to-read display
Compatible with NIBE Uplink®
Guidance on siting an ASHP
An ASHP installation must either receive planning permission or be classified as a permitted development – find out more and view our information sheet.