Heat water using the sun
Solar energy is a free, unlimited resource that produces no harmful emissions and requires no transportation or supply pipelines.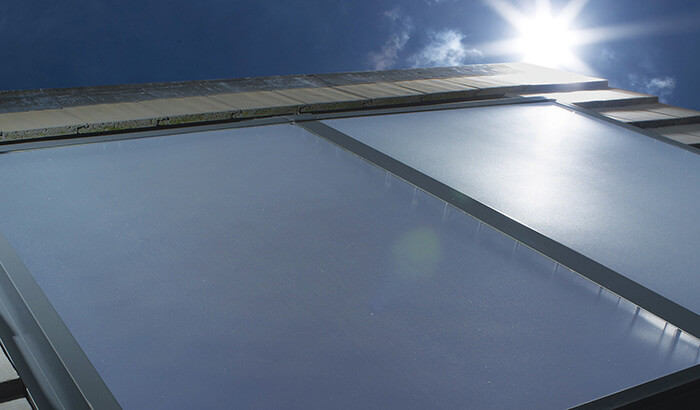 How does solar water heating technology work?
Energy from the sun warms fluid in the solar panels. When the fluid reaches a useful temperature it is pumped to a coil in the bottom of a solar cylinder. The solar coil heats the cylinder water for domestic use. If the cylinder's temperature sensor detects that the solar panel has not collected enough energy to heat the water to its pre-set temperature, it allows the main heat source to top it up (i.e. a boiler). The control panel can be set to optimise efficient use of the solar panel and ensure hot water is available at the times you need it.
Ideal for…
Pitched roofs
Flat roofs
Garden structures, so long as the distance between the solar panel and cylinder is practical
Achieve optimum efficiency with Nu-Heat Know-How system design
Nu-Heat designs and supplies a complete, ready-to-install package comprising the solar hot water cylinder,
solar panels, and ancillary components. Our specification is based on:
Hot water demand
Orientation and angle of the panels
Amount of overshading from trees and surrounding buildings
Using our own unique calculations package to specify the ideal combination of cylinder, solar panels and ancillary components, the Nu-Heat
design and system sizing process has been developed in conjunction with European solar design software, TSol,
as well as the government's Standard Assessment Procedure (SAP) building regulations assessment criteria. Every Nu-Heat quote details the estimated
annual proportion of hot water the solar collector will supply, based on the individual demand for the household.
Warranty information
Warranty period

1 year

2 years

10 years

25 years

All electrical parts

✔

Flexible stainless steel pipes

✔

Nu-Heat EnergyPro® solar panels

✔

EnergyPro® S Cylinder

✔

EnergyMaster® HPS Cylinder

✔